Maestro impressionists, amateur gourmands and social buffoons Steve Coogan and Rob Brydon return for their third go-round the European Union in Michael Showalter's The Trip to Spain. After bumbling through the UK and Italy, the pair of theatrical 50-somethings find themselves in Spain, wining and fine dining, making their way across the countryside, reflecting on their professional and personal lives between bouts of celebrity charades and general horseplay.

Whereas The Trip to Italy managed to one-up the nimble serio-comedic styles of The Trip, this third excursion comes packed with a travel-sized portion of diminishing return. Of course it's no small joy to see Coogan and Brydon snap back into playing these somewhat-real-somewhat-alternative-reality-versions of themselves but it's beginning to feel like they are stretching the buck on this intellectual property a bit too far.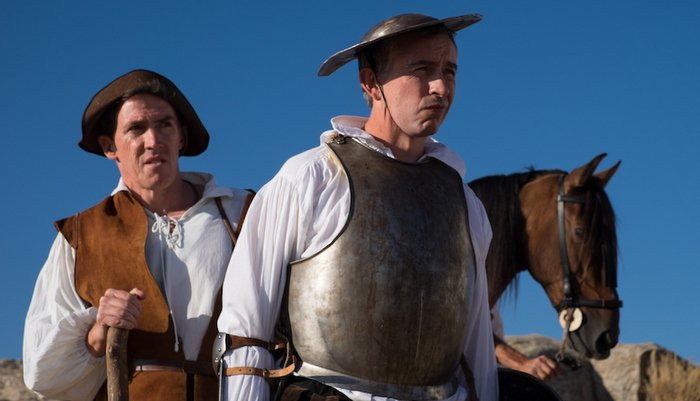 As in-film caricatures of themselves, Coogan reflects on his status as an Oscar-nominee while Brydon jocularly laments his participation in the latest Huntsman joint. Both face new challenges both on a professional (Coogan's management team has moved on, Brydon remains adrift in relative stardom anonymity) and personal scale (Coogan's teenage son is expecting a child, Brydon works through the trials of his own young children.)
Throughout, Coogan and Brydon remain inimitable hosts, anchoring this admittedly one-of-a-kind, part-travel-venture, part-moody-self-reflective-comedy with a good bout of knowledge of culture, history, food and language. But while seeing Italy through the eyes of Brydon and Coogan made me want to buy a ticket immediately to cruise the countryside, hopping from vineyard to vineyard, trattoria to trattoria, their display of Spain is measuredly less riveting. Their passion for the area seems diminished. Their knowledge too.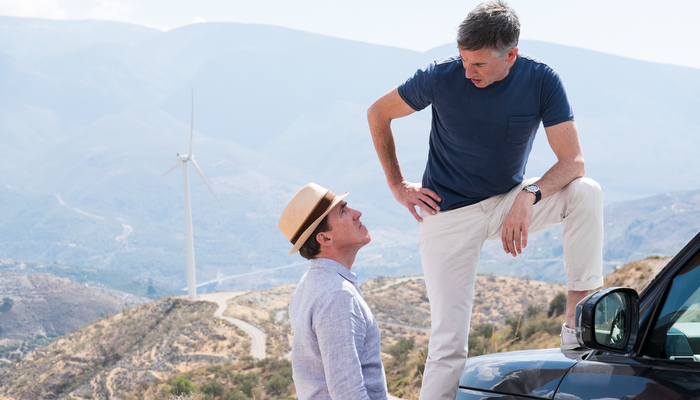 Perhaps you can blame the laptop-sized screen I drank The Trip to Italy in on but vistas appeared generally less impressive. The food less agonizingly delicious. These films are to their very core transportive but the atmosphere here felt diminished, if almost uninviting at times. As someone who has always wanted to travel to Spain, their guided tour didn't necessarily get me any closer to pulling the trigger on those spendy intercontential flights.
Thank God then for the feature's leading men, the unstoppable Rob Brydon and the incorrigible Steve Coogan, this blended travelogue's wind-up dolls, yacking and musing their way through a near two-hour runtime. You'll witness the return of Michael Caine and the small man in the box as well as see the debut of Marlon Brando, Robert DeNiro, Mick Jagger, Sean Connery, Jon Hurt and Sir Ian McKellan. Their impressions are on-point and omnipresent, probably occupying a good quarter of the film's run-time. The best case scenario is that you find yourself constantly ribbed by their mockeries. Worst case, you can see how bare the rest of the story is. Nevertheless, we laugh.  Shakesperean recitals pair with jovial songs, belted in the midst of a quiet restaurant.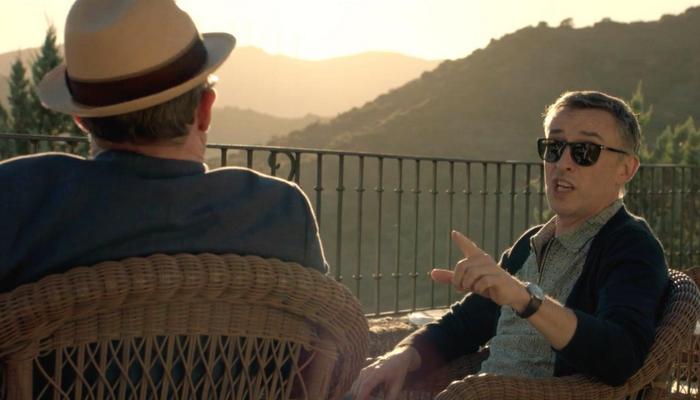 It's a show, to be sure, a good-hearted, deeply-felt show but it almost seems as if the three-odd-years between segments isn't quite enough time for these characters to have grown, changed and transformed in significant enough ways to warrant checking back in on them. Particularly if we're going to shift the focus away from their locale and hone in more on the characters. That being said, how can one lodge a reasonable complaint about Brydon's terminal comedic outbursts or Coogan's near-encyclopedic knowledge of the world? If all the world's a stage, I'm at least happy to take it in with these two.
CONCLUSION: Dastardly duo Rob Brydon and Steve Coogan travel the globe once more, feasting and joshing in their can't be replicated style. As the third entry in under seven years, 'The Trip to Spain'  begins to tread familiar territory but succeeds in continuing to offer an alternative kind of travelogue complete with a much more droll, charming and incessantly hilarious pair of hosts.
B-
Follow Silver Screen Riot on Facebook 
Follow Silver Screen Riot on Twitter
(Visited 119 times, 1 visits today)