If you're going to see one movie about a plus-sized New Jersey female rapper this summer, you best make it Patti Cake$, the stunning feature debut from Geremy Jasper. Following in the tradition of Hustle and Flow, Patti Cake$ uses an untraditional hero, Patricia Dombrowski (stage name Killa P) played to unique perfection by newcomer Danielle Macdonald, to craft an unlikely (but entirely lovable) story of talent erupting from unexpected places. Jasper's film is an independent musical fever dream stuffed to the brim with colorful, well-defined characters, a diverse and talented cast of unknown talent and a killer soundtrack that'll force its expertly produced setlist of tunes to rattle around your skull for days to come. Like a filmic cocktail of Adderall and Prozac, this mic drop of a movie is certain to make you perk up, pay attention and leave plastered with a smile. 
Jasper, who wrote, directed and composed all of Patti Cake$' catchy hip-hop score, couches a tender coming-of-age story in an explosive, music-driven underdog hero's journey. Don't let her off-kilter image fool you, Jasper titular character is no mockery nor is she the "white Precious" that some of her detractors deem her. Though the neighborhood kid taunt her with her playground nickname "Dumbo", a shot both at her weight and her intelligence, the later takedown couldn't be further from the truth. Patti is coiled intelligence, a lyrical fat-cat, lightning speed with a rhapsodic diss and trying to overcome society's constant put-downs to become the boss bitch she knows she really is.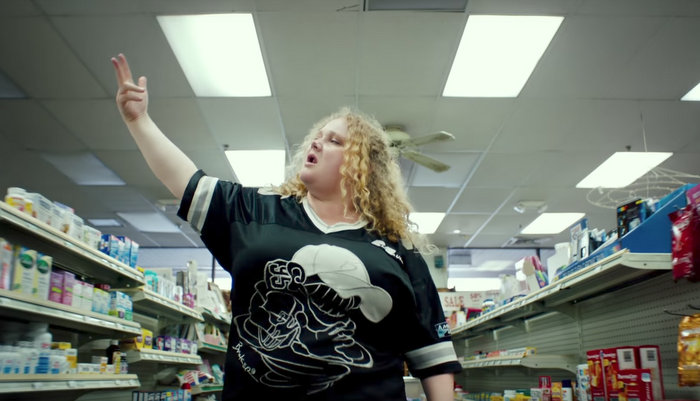 As Patti seeks revenge in a mean-spirited freestyle rap battle or records her first blazing single (a delightfully sticky ditty called "PBNJ") or lets loose on stage to an unfairly hesitant crowd, the soul of a poet is revealed. Even her cadence is more Shapespeare than Snoop Dogg, her rhymes clever and cutting, but when she lets her verses flow, Patti launches into full attack mode, unleashing fiery bars that would have Marion Ravenwood standing jealous. Jasper's clever writing prowess may be on full display in the variously lit verses that flow through Patti like Big Macs with a Peptobizmol chaser but his character work is equally admirable.
Cathy Moriarty standouts as Patti's gruff but supportive grandma, fog-horning her thousand-cigarette baritone to offer much-needed encouragement and a few choice vocal samples for Patti's track while Bridget Everett posits a revealing and often unhinged performance as Patti's emotionally turbulent matriarch. The two men flanking Patti's ascent are Jheri (Siddharth Dhananjay) and Bastard the antichrist (Mamoudou Athie), two polar opposites who despite their larger-than-life characters – Jheri is an auto-tuned, Aziz Ansari-cum-Nate-Dogg-amalgam, an R&B vocals hype-man with an obnoxiously sunny streak while Bastard (real name Bob) is an antisocial anarchist with a knack for producing ill beats and disdain for society/conversation – never feel like the caricatures they so easily could have been.
But the spotlight belongs squarely to Macdonald. From her frizzed out splat of hair to her wide-set personality, Macdonald is Patti. She is every hefty ounce embodied, right down to her quaint grin and can-do bravado. We see that confidence checked on many occasions, with all from her hamburger-flipping crush to her musical idol to her own mother offering nothing but negative reviews and discouragement, attempting to crush her dreams beneath their jaded heels. As Patti stares through spates of runny mascara, she is the big engine that could. The role proves a coming out party for Macdonald, who is so well-matched to Jasper's sardonic, sidesplittingly funny verses and delivers them in such glorious, decadent fashion that my first instinct upon exiting out of the film was to find the album on Spotify and play it immediately. Unfortunately, it's not there yet.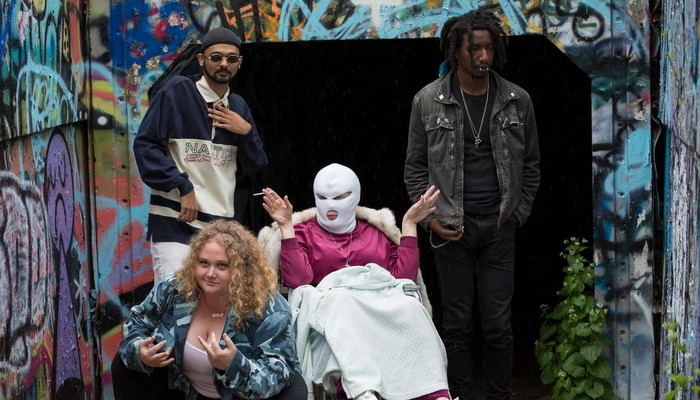 When you're not tapping your toes, Jasper engages his audience in the meticulously crated drama of Patti's rocky rise. While other musical dramas may see that phoenix transformation as a rags to riches saga, Patti Cake$ finds something more real, more earnest, more human: Patti's prize is the love and acceptance of her hard-assed family. Of finally finding comfort in her own skin. The message is powerful and fiercely realized, defined on all sides by strong, alternative voice characters.
Employed at the local haunt for do-nothings and has-been, Patti tends the bar at Lou's where the chief resident has-been is her mother, the closet thing the film has to an antagonist. A Jäger-slamming wash-out, Barb relives her glory days nightly, harkening back to the days when she led a glam rock group called Barbed Wire, much to Patti's chagrin. The two are reflections of one another, even when they refuse to acknowledge said fact. The explosive relationship explored between the three generations of Dombrowski women, including Patti's time-stained grandma, leads to some momentous emotional payoffs, if their dynamic is well-versed, predictably rote, territory. A late-stage last minute arrival has been seen a thousand times but somehow still feels fresh, earned and original in Patti Cake$' narrative.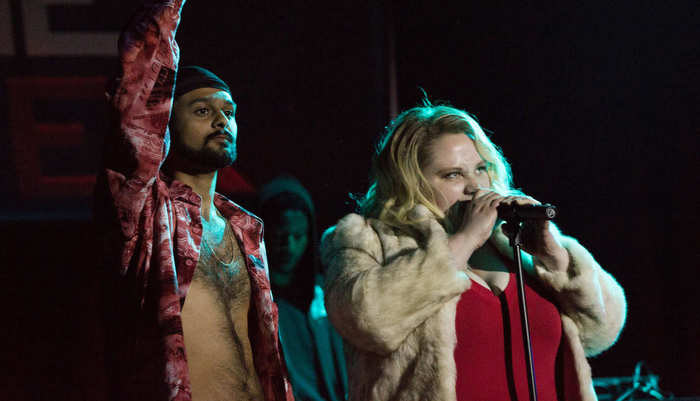 For a movie with a dollar sign in its title, Patti Cake$ remains a shockingly down-to-earth venture, a real deal examination of a big girl with big dreams and big obstacles. While the glass-is-half-empty viewer can read a lot of well-versed bromides into Patti Cake$, most importantly about not judging a book by its cover, there's such nuance and depth and specificity to the character work, such passion to the music and the lyrics, and such a distinct directorial vision – Jasper's decision to tighten in like a boa constrictor on character's lips during Big Emotional conversations, or his dreamlike snaps to and from reality give Patti Cake$ a DIY, imaginative sheen all its own – that even while spinning familiar-sounding records, Patti has a way to make it feel like we're hearing it for the first time.
CONCLUSION: 'Patti Cake$' samples a familiar beat but gives it a whole new spin, led by a wowing record scratch of a performance from newcomer Danielle Macdonald. Though proudly flaunting double flipped-off fingers, the debut from Geremy Jasper has an elephant-sized heart and a rapier wit, making this tough love rags-to-MC saga a visceral and heartfelt come-up.
A-
Follow Silver Screen Riot on Facebook 
Follow Silver Screen Riot on Twitter
(Visited 153 times, 1 visits today)