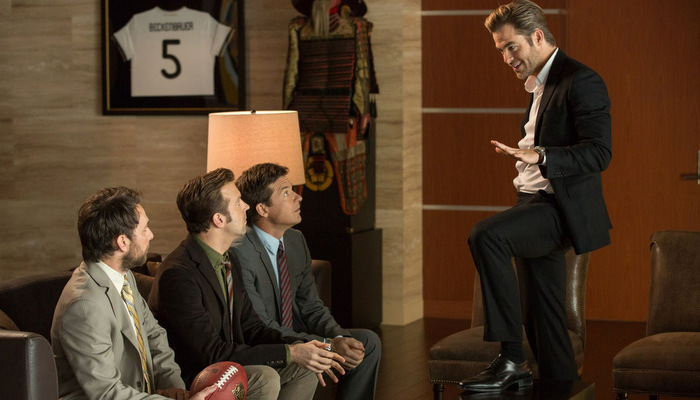 A comedy sequel that slam-dunks over its predecessor, Horrible Bosses 2 is a sardonic, infantile laugh riot. Joke for joke, it's more meaty than the 2011 original. The characters are churned up and the window dressings turned down. This has one and only one purpose: to make you laugh.
After decidedly not killing their bosses, Nick, Kurt and Dale have since gone into business for themselves, inventing a product known as the "Shower Buddy." Their sudsy SkyMall idea lands them a spot on the nightly news (an appearance they accidentally botch with silhouetted sexual references) but not before production baron Bert Hanson (Christoph Waltz) notices opportunity.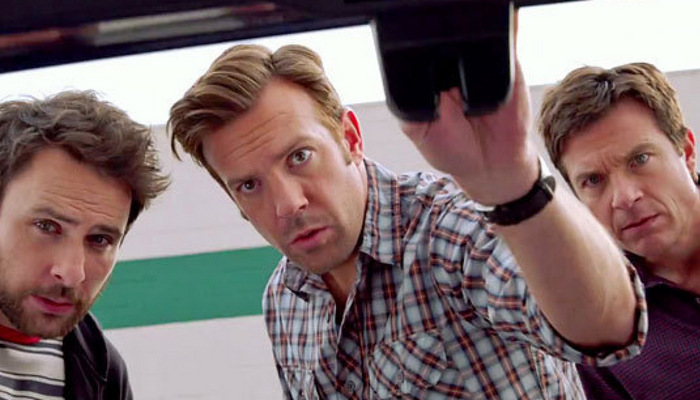 After ordering thousands of units of the American made all-in-one shower companion, Hanson pulls the plug on NickKurtDale.com (don't try to say it fast) assuming the company will collapse and he can buy their already manufactured goods for pennies on the dollar. Considering their background in amateur crime, the sloppy trio decide to take matters into their own hands and respond with a kidnapping scheme to bargain Hanson's son Rex (Chris Pine) to cover their lost capital. Hilarity ensues.
Reviewing comedy is a fickle game and one given over largely to subjectivity but for me, the comedy here really works, improving on a formula that looked better on paper than it actually was the first time around. Horrible Bosses 2 delivers on that promise of unabashed retardation. The first film was a half rack of ribs, occasionally tasty but built on chalky bones, while this is pure brisket; a tenderer cut that trims the fat and leaves just the jokes. The dead air has been filled with sweat, nicknames, non-sequitor and flagrant exaggeration. The archetypes are racketed up well past the point of normalcy and from Kevin Spacey's left ear diamond earring to Jamie Foxx's Motherfucker Jones penchant for chewing on slurpee straws to Charlie Day's perma-coked out mania, the energy of the group is solidified in a sense of juvenile glee nothing short of infectious.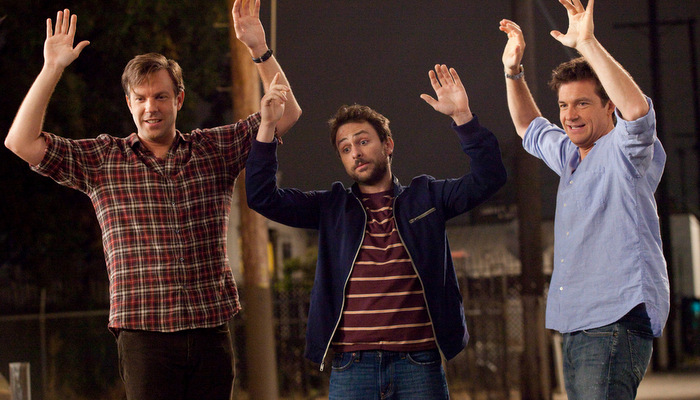 The main triptych were happy-go-lucky, fairly straight-laced dudes with a little bit of quirk but now their idiosyrnacies have been turned up to cable-network extreme. Jason Bateman is even more of a cowardly, self-righteous asshole. Jason Sudeikis drips numbness while pumping out a stream of off-putting sexual energy. Charlie Day is more, well, Charlie Dayish; his nervous energy and sweaty antics broadcast in all its kooky crack-baby glory. It's the noisy, chaotic, dummy humor of It's Always Sunny; the calculated misanthropy of dumb dudes doing dumb deeds.
Yes, Jennifer Aniston and her carnal explicitness busted my gut. Pine proved (yet again) that maybe comedy is what he was made for. And Day, Bateman and Sudeikis are all right on the money. It was a solution of funny people doing funny things and it had me laughing the whole way through. That's not to say that what worked for me will necessarily work for you though. In fact, many will likely be put off by Horrible Bosses 2's short-order comedy. For me though, it's one of the best studio comedies of the year; a hearty step up from their first outing and a nearly laugh a minute affair. Bring on number three.
B
Follow Silver Screen Riot on Facebook
Follow Silver Screen Riot on Twitter