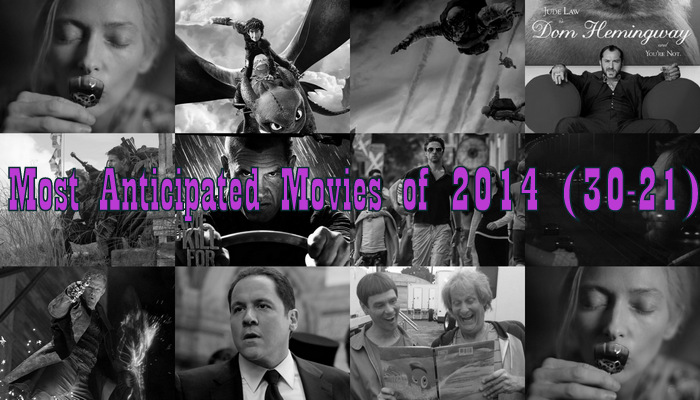 With 2013 now in the rear mirror, it's time to look forward into the new year and start placing our bets on what's going to turn out best. As always, there's a slate of big blockbusters on their way but I only have little interest in a bulk of these. For this reason, you won't find the likes of Hunger Games, The Hobbit, Captain America: The Winter Solider, and the overpopulated The Amazing Spiderman 2 on this list. Rather, this is a collection of films that I feel could surprise me, entertain me, amaze me and really stick with me throughout the year.
Here is my most anticipated movies of 2014.
30. How to Train Your Dragon 2



Let me just start by saying I absolutely loved How to Train Your Dragon. Between the inimitable animation and heart-rending tale of unexpected friendship (and did I mention dragons galore?), it was probably the biggest surprise of 2010 (a year overflowing with out of the park animated films). While HTTYD has become a certifiable pop franchise, with a television show, plans for a second sequel and three short films already under its belt, I'm hoping that this second installment is able to capture the magic and heart of the film but fear that it will suffer the blow of sequelitis.
Releases wide in 3D on June 13.
29. Jupiter Ascending


After almost falling off the radar with the one-two punch of the Matrix sequels and the DOA Speed Racer, the Wachowskis returned to cinema in a big, bold way with last year's Cloud Atlas, a film equal parts compelling, confusing, and, all around, courageous. Their latest, Jupiter Ascending, aside from sharing a strange, ethereal name shares the ambition found in Atlas and could potentially rise above being a B-grade sci-fi actioner. Aided by hot ticket items Channing Tatum and Mila Kunis, let's hope that this reminds us of the stuff that put the Wachowskis on the map.
Set to debut July 18.
28. Chef


You never know quite what's in store when Jon Favreau steps behind the camera but no one can deny that the man knows how to harness fun. Though critics widely panned Cowboys & Aliens, I sided with it, calling it for the fun, tongue-in-cheek genre mash-up a title like Cowboys & Aliens suggested. And though I had some severe issues with Iron Man 2, we gotta give Favreau credit for putting Iron Man and the MMU on the map. But that's neither here or there as Chef is a large departure from Favreau's big blockbuster fare of late and is more in tune with his sardonic comedies the likes of Swingers. Starring Iron Man himself, Robert Downey Jr, as a chef who is fired and turns to working at a food truck, the cast is loaded with his trusty Avengers sidekick, Scarlett Jonahsson, alongside Modern Family's Sofía Vergara, Dustin Hoffman, and naturally, Favreau. If things looks go down as they should, this looks to have all the ingredients for critical and financial success.
Expected to release May 9.
27. Dumb and Dumber To


It's been 20 years since Harry and Lloyd rode a Vespa to Aspen singing Mockingbird and causing heart palpitations. This time, rather than recast the roles with two nobody actors, the original cast is back. Even better is the fact that in the time since their last outing, Jim Carrey and Jeff Daniels have gone on to lead really respectable dramatic careers. Seeing them return to their roots after a decade of serious stuff will hopefully make it all that much more sweet. While we all collectively try to forget about Dumb and Dumberer: When Harry Met (oh god I just can't) let's hope that they go and do something that totally redeems themselves.
Set for a November 18 release date.
26. Only Lovers Left Alive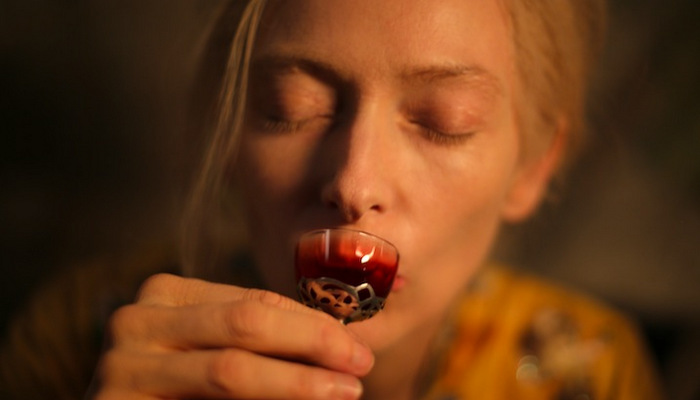 Jim Jarmusch is pretty much the Elvis of indie film (just look at his hair), and it doesn't hurt that his latest benefits from a killer duo in Tom Hiddelston and Tilda Swinton, so the fact that the man is now dabbling in vampires is enough to get my curiosity piqued. Add to that the fact that buzz out of Cannes and Toronto was nothing but glowing and Only Lovers Left Alive earns its place as the one vampire movie of 2014 that I won't dread seeing. If all goes well with my flights (*fingers crossed*) this should be the first film I see at Sundance so a mere ten days away for me at this point. The rest of you will have to wait until April 11 or later.
Will play at Sundance and then open in limit theaters on April 11.
25. Wish I Was Here



Aside from having going down in history for having one of the best soundtracks ever, Garden State was widely loved by critics and audiences for its salty take on the transitory twenties. It was the kind of indie rom-com with heart and purpose that seems to escape so many filmmakers. So it's no wonder that Zach Braff's sophomoric film (and it's been ten years) lands on my list. The fact that Braff funded the film through his notorious Kickstarter campaign also means no studio interference so this is the untarnished piece bolstered by full creative control. Wish I Was Here follows Aidan Bloom, a struggling actor, father and husband, who at 35 is still trying to find his identity; a purpose for his life. Sound anything like Braff's Andrew Largeman? I thought so. I guess we'll see how close this one hems to being a thematic sequel to Braff's celebrated debut.
Will premiere at Sundance. Wide release TBA.
24. Sin City: A Dame to Kill For



I'm already kind of kicking myself for including this one but my lingering affection for Robert Rodriguez's first adapation of Frank Miller's crunchy graphic novel has twisted my arm. I can't help but feel like this will be a throwaway follow up but the fact that Rodriguez and Miller have been working on this for ten years gives me a shimmer of hope that this will be the return to form the hit-or-miss filmmaker needs. Add to that the fact that Joseph Gordon Levvitt, Jeremy Piven, Eva Green, and Josh Brolin have joined a cast that already includes Sin veterans Bruce Willis, Mickey Rourke, Eva Mendez, and Rosario Dawson and I'm left assuming that they must have at least a solid story under their belt. Here's hoping.
A late summer release means more Sin City for August 22.
23. Locke



Locke debuted last year at the Venice Film Fest to near unanimous support and is yet another on this list that I'll be catching at Sundance. Featuring the always triumphant Tom Hardy (The Dark Knight Rises, Bronson), Steven Knight's film is said to channel the minimalism utilized in the surprisingly fantastic Buried starring Ryan Reynolds. The film takes place entirely inside the car Hardy's Ivan Locke drives while he takes a number of calls in a race-against-time scenario.
Another film featured at Sundance 2014, Locke will open April 25 in select theaters.
22. Edge of Tomorrow



Tom Cruise is dangerously close to the "he can do no wrong" page in my book so just anything with the grinny 5'7″ action hero has me turning my head. Add to that a cool sci-fi concept that mashed mech suits with a Groundhog Day playground and I'm very much listening. Although I prefered the over-the-top original title, All You Need Is Kill, to the watered down product that is Edge of Tomorrow, this could be the type of blockbuster needed to jump start our faith in blockbusters. While director Doug Liman has a bit of a spotted past (Bourne Identity = good, Jumper = no so much), everything from this so far looks pretty impressive.
With a June 6 release date, you better believe this'll be your IMAX screening of the week.
21. Godzilla



After Roland Emmerich's failed 1999 Godzilla flick, it's almost ridiculous to imagine that I would be anticipating the next stage of the lizard monster big screen return but here it is anyways. At first, the cast that includes Bryan Cranston, Aaron Taylor-Johnson, Elizabeth Olsen, Ken Watanabe had my interested piqued but it was really the uncharacteristically artistic approach seen in the posters and the excellent first teaser trailer that has me debuting this potential blockbuster so highly on this list. Back in his heyday, the iconic citystomper used to stand for something. His iconography is as engrained as Darth Vader or Sauron. I'm willing to bet that this Godzilla is going to put the Japanese monster back on the map in a big way.
A big blockbuster date with a May 16 tentpole release.
Tomorrow the list continues with my 20-11 picks