Well well well. 2015 has finally reached its end. After 201 films, 25 interviews (including Robert Duvall,  Kevin Bacon, Jason Segel, Jason Schwartzman, Greta Gerwig,  Jemaine Clement, Alex Garland, and Nick Kroll to name just a few), three massive international film festivals and countless hours spend idly engaged in film banter with my always entertaining gang of colleagues and peers at various Seattle screening rooms, I can finally come to the conclusion that, for what it's worth, 2015 was an odd duck for film.It was a year in which franchise and blockbuster films blew their dramatic counterpart out of the water. A year in which Quentin Tarantino produced a film that did not rear its head in my Top Ten. A year where nostalgia reined supreme and Star Wars, Jurassic Park, Rocky, Terminator, Mad Max and The Man from U.N.C.L.E. all saw themselves plucked from yesteryear and injected with new life – to varying degrees of success. 2015 also saw unprecedented franchise fatigue – as both Avengers and Hunger Games sequels failed to make as much moolah as their predecessors. 2015 was a year that made for a divisive and hard to predict award's races. And though at this point in time, Spotlight seems to be sitting comfy in that cushy top slot, the award's race is still very much alive.
That's not to say that their weren't all-timers scattered throughout the year. From comedy to tragedy, foreign films to scary movies, science fiction to biopics, animation to aliens, 2015 had some truly excellent films in store. In order to justify the criteria I used to help scrutinize and rank these films, I'll let you all in on my processes. First off, to make Top Ten status, a film must have rewatchability status. That is, I need to want to see it again at some foreseeable point in the future or else it's not really up for consideration as a "favorite". In order to cull together this oh-so-important list, I made a point of revisiting films at least twice. All entries on this list passed the test of A.) Me wanting to see them at least twice and B.) Enjoying it as much, if not more, the second time around. And when you're packing 200+ new films into a year, it's really saying something when you go back and watch a film again. It says something entirely different when you watch it 10+ times.
But before we get to our official Top Ten favorite films of the year, let's take a moment to acknowledge those that didn't quite make the cut. Props are owed to Dennis Villenue's masterfully told cartel procedural Sicario, the under-appreciated mile-high disaster epic Everest , Alex Ross Perry's gut-wrenching Queen of Earth, and Joel Edgerton's slyly insidious thriller The Gift all for taking us somewhere we never want to go again. Amy Schumer and Judd Apatow delivered a laugh-a-minute clandestine rom-com with Trainwreck while Adam McKay chucked out comedy for drama with his erratic financial meltdown effort The Big Short. Tom McCarthy's celebrated investigative journalism piece Spotlight was met with open arms while excellent SXSW soft sci-fi crowd-pleaser Creative Control never saw any kind of spotlight. Outside the United States, the claustrophobic and brutal Holocaust drama Son of Saul wowed and punted our hearts, as did France's elegant coming-of-age tale Girlhood. Spain's rousing and sardonic crime anthology Wild Tales proved an early jolt of life as Joshua Oppenheimer's  heartrending Indonesian genocide documentary The Look of Silence quieted our souls to a hush. The wowing, under-the-radar Peruvian thriller Magallanes was another work that went unnoticed after its TIFF debut while the Turkish budding sexuality drama Mustang got some attention but not nearly as much as it deserved. The Netflix–distributed child solider war drama Beasts of No Nation was a logistical game-changer as the totally ignored, immaculately realized, perfectly acted cult psychological-thriller Faults ranked as one of 2015's best kept secret still yet to be discovered over on Netflix. There were no short supply of spy movies this year but none topped the edgy, hysterical, badass spy movie throwback Kingsman: The Secret Service, though Steven Spielberg's taut, old-fashion and elegant Bridge of Spies and Guy Ritchie's super smooth, super spy caper The Man From U.N.C.L.E both gave it a run for its money. Cheers to all who got close to the blue ribbon but just missed out. Better luck next year. So with all the runner-ups out of the way, I can finally present Silver Screen Riot's Top Ten Films of 2015.
10. STAR WARS: THE FORCE AWAKENS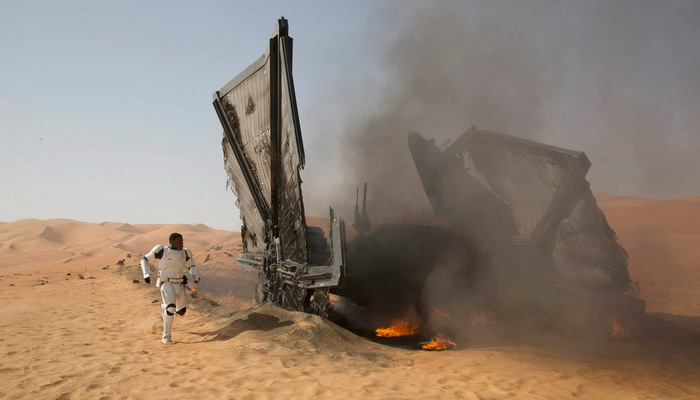 Talk about a money shot right off the bat! Though I've earned a right to call myself a critic over my very public scrutiny of J.J. Abrams' entry to the beloved sci-fi franchise, that doesn't mean that it hasn't forked its way into my forgiving heart like a fuzzy little Ewok. To me, Star Wars is more than just a franchise. I grew up surrounded by Star Wars action figures, riding my bike through the woods as if it were an Endorian speederbike and conducting "lightsaber" battles with my younger brother (we used bats). And though my first reading of the film was skeptically positive, the more I've thought about it – and the more I've watched it – the more I've loved it. Sure, it has issues but having a scruffy nerfherder onboard is part of what makes this franchise so lovable. Abrams handled the return of the original cast masterfully but what made the The Force Awakens truly great is its instantly iconic new characters. Where George Lucas mistakenly hierarchicalized effects over characters in the prequels, The Force Awakens gets that what makes the original trilogy such a joy to return to year after year is its pitch-perfect character dynamics. And with Rey (Daisy Ridley), Finn (John Boyega), Poe (Oscar Isaac) and Kylo Ren (Adam Driver) now on the scene, I cannot wait to see which far, far away galaxy we go to next.
9. THE OVERNIGHT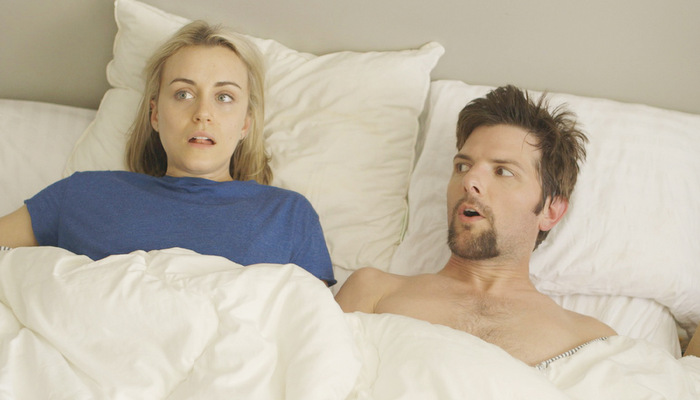 Jason Schwartzman's penis in this film is reason enough to buy the Blu-Ray and put it on repeat. Sure it's not real (he admitted this in our interview) but that behemoth has enough screen time to get a co-star credit. And somehow, for a film with as much genital screen time as it has, The Overnight is a genuinely heartfelt, bottomless wristband of subversive comedy. The sexual-fantasy-gone-right is somehow both emotionally honest and totally devoid of the scatological humor the aforementioned dong-hangs might imply. Ok fine, there are also butthole paintings populating the film but that still doesn't quite paint the right picture of the film either. Writer/director Patrick Brice loves his characters, and unlike most comedy films, doesn't treat them as jokes. These are real people dealing with real insecurities and seeing them attempt to realize their various wants and needs – and speculating as to what is really going on behind the curtain – makes for one of the great joys of The Overnight. So call up your mom, dad, girlfriend and grandparents and crowd around the most outrageous, entirely versatile comedies of 2015. They say that comedy is harder than drama and though the Sandler clan is the antithesis of that sentiment, The Overnight might just be the proof we were looking for.
8. CREED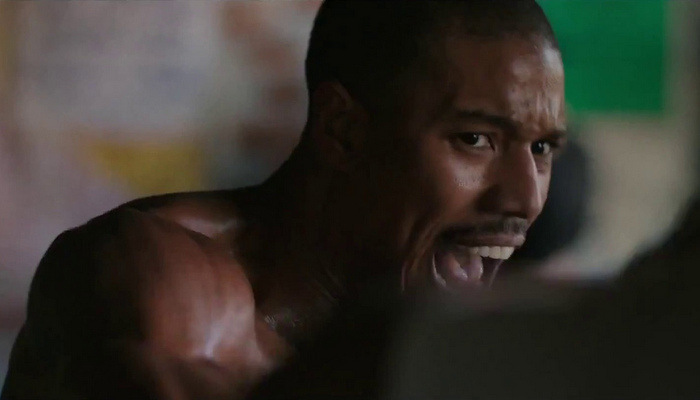 Who would have predicted that a soft reboot of a once-beloved boxing franchise would have snuck its way into my top ten list? Not I. Ryan Coogler might have though. The 29-year old Oakland director came to Creed as a fan and a son, wanting to explore the idea of legacy within the confines of the ring but playing off the relationship he had with his own father. With Michael B. Jordan in the limelight and a shockingly potent Sylvester Stallone in his corner, Coogler directs the living hell out of Creed, going toe-to-toe with the legends of great sports films past. There's so much energy and purpose to the film – realized both inside and outside the ring – that it's a shock to believe that it's the seventh of a franchise. But Creed does not stand on the shoulders of giants. Much like its protagonist, it wants to be recognized for its own strengths, not of that which came before it, and delivers a real K.O. in the process. From a black-eyed shot of two-and-a-half rounds and two corner breaks with no cuts to Adonis Creed's tender, late-stage ring-side admission, Creed is a big-hearted hulk of a film; a true (black and) blue champion.
7. STEVE JOBS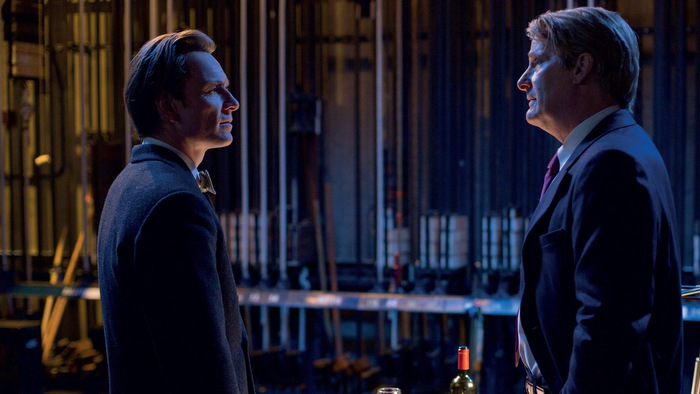 Steve Jobs played Hollywood hopscotch before finally landing with the actor/director duo destined to bring it to the world: Danny Boyle and Michael Fassbender. That its greatest component – another scorching, silver-tongued fever dream of a script from Aaron Sorkin – remained the one constant speaks to just how badly A.) People wanted to see Sorkin's rendition of a proper Jobs biopic and B.) The studio wanted the damn thing made. But all the logistically juggling in the world couldn't save Steve Jobs from audience disinterest as Steve Jobs flopped like a dying carp when it finally hit market. On the one hand, Boyle is hardly a sure-bet though the suits at Universal were probably hoping for Social Network numbers and were instead treated to the lowest grossing Sorkin effort to date. And what a damn shame that is because Steve Jobs is one of the few adult dramas this year that dared to be smarter than its competition. Fassbender is narcissistic magic as the megalomaniac titan of industry and the supporting cast surrounding him, from an excellent Kate Winslet to a scene-stealing Jeff Daniels and Michael Stuhlbarg and Seth Rogen playing against type, is aces. Add Daniel Pemberton's crypsis score and Boyle's flare for the theatrics – including a decision to film different time periods in different formats (16mm for 1984, 35mm for 1988, and digital for 1998) – and you have a passion project brimming with purpose. Which, again, makes the tragedy of Steve Jobs having gone unseen by most an even more striking blow to quality film everywhere.
6. ROOM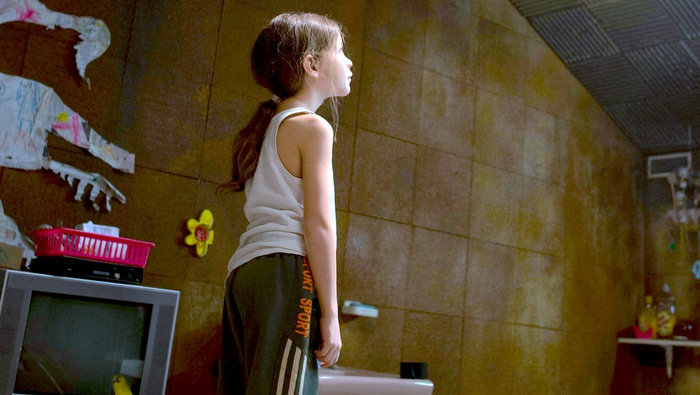 Lenny Abrahamson's Room is a cuddly staring contest with despair. The winning adaptation of the best-selling novel is a challenging but rewarding watch; one that confidently avoids the pratfalls of drama with a capital-D.  Where there is hopelessness in Room, Abrahamson shines a light. Into horror, we peer through the eyes of a child. Less confident storytelling would turn the kidnapping rapist who's taken Ma (Brie Larson) and Jack (Jacob Tremblay) captive into a warped monster of a man. Rather, he's just as much a victim of his own boorish predilections as are his victims. Where Abrahamson could so easily descend to narrative sensationalism and leisurely melodrama, he fights the harder battle: illuminating the internal battle the soul wages with itself. Larson and Tremblay are both up to the task and work beautifully off of one another. Their unorthodox mother-son relationship is tender, strange and soulful. Each sacrifices parts of themselves – a bad tooth or a overgrown ponytail – to sustain the illusion of wholeness. Narration is most often a crutch in film but Tremblay's impressionable, adorable, deluded guidance is one of the film's many great strengths, rather than its weakness.
5. THE END OF THE TOUR
Last year, four of our Top Ten films of the year came from the bowels of the Sundance International Film Festival. This year, only two were able to make the cut. James Pondsolt's soulful The End of the Tour was the greater. The uncommonly intimate biopic proved Jason Segel an unlikely dramatic heavyweight and Pondsolt a lasting American director. A Rolling Stones journo (Jesse Eisenberg) conducts a series of interviews with author of overnight-rockstar fame, David Foster Wallace (Segel), with each emotionally-revealing session poised to target a new element of life, be it modernity, fame or frivolity. As Wallace, Segel soars, offering his most personal and affecting work yet and Eisenberg (who's perfected the fiercely intelligent but emotionally-guarded social outcast gambit) proves an able fulcrum for Segel's Wallace to pound ideas from. Rather than showcase a tired cradle-to-grave life story, The End of the Tour hones in on a very exacting intersection between the two strong personalities and, for it, provides a ready tome of legitimate emotional and intellectual depth set to challenge ideas of friendship. Where Wallace is quick to finger the Kantian toxicity of pleasure, he readily admits to swooning for the mindless comfort of fiction. Cinema is most often characterized by films meant to entertain and those meant to educate. The End of the Tour has no intention of sermonizing, instructing or aggrandizing. It muses. And its musings strike to the core.
4. INSIDE OUT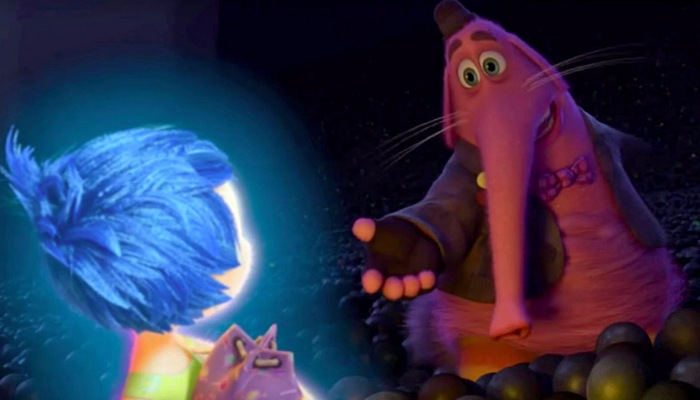 'Twas the year of two for Pixar. One went for rote, happy to take the road more traveled, while the other went for broke. The Good Dinosaur was a underwhelming (especially by Pixar standards) experiment in sameness as Inside Out proved an emotionally decadent, unprecedentedly imaginative, passionately told, genuinely heartfelt, narratively gripping, and aesthetically gorgeous smorgasbord of creativity. Parents (allegedly) taking their children to a Pixar movie were caught off-guard by Inside Out's rich tapestry of adult-targetted in-jokes. And though kids appreciated Inside Out for its lush color schemes and surface-level funny characters, a river of complexity flowed beneath the schema of the animation studio's tenth effort. Through the challenge of presenting abstract thought as a series of palpable vignettes, the Pixar brain trust tapped into their most esoteric headspace yet, presenting an engaging deconstruction of the homo-mechanics of "us". In giving character to the emotions running our decision-making motherboard, Pixar exhumed their most vivid secret world yet and with it also created one of their most-lasting accomplishments. The result is a humanizing journey through pain, pleasure and everything in between, rife with nostalgic moments, utter hilarity and earnest emotional beats that'll turn any but the most stone-hearted to weepy lumps.
3. EX MACHINA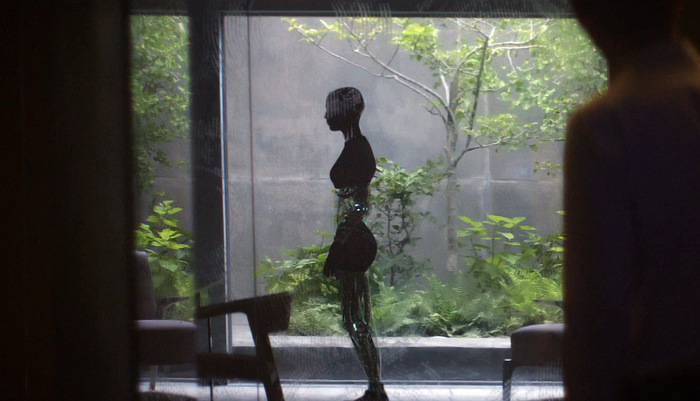 Alex Garland's daring directorial debut Ex Machina masterfully puts a new spin on a festering fear. The advent of a sexy singularity, Eva, forces two men, her maker and an unsuspecting quality assurance boar, to come to terms with her (and subsequently, their) new place in the world. As the curious robo-vixen, Alicia Vikander offers one of the most stunning performances this year, securing her place as "2015's top new talent." Vikander baits her traps with honey, experimenting with the subtle human transactions we exchange everyday, imbuing each word with a novel alloy of seductive, suspicious mannerisms and it makes the cat-and-mouse elements percolating throughout the feature all the more interesting and disarming. Domhnall Gleeson (in his second of three appearances on this list) and Oscar Isaac helped complete the triple-threat quality of Ex Machina. And though Garland's darkly-centered sci-fi feature was in essence a talky morality play, keen FX work and an unwaveringly antagonistic score from Geoff Barrow and Ben Salisbury pushed it over the precise to become one of the decade's most unforgettable science-fiction offerings.
2. THE REVENANT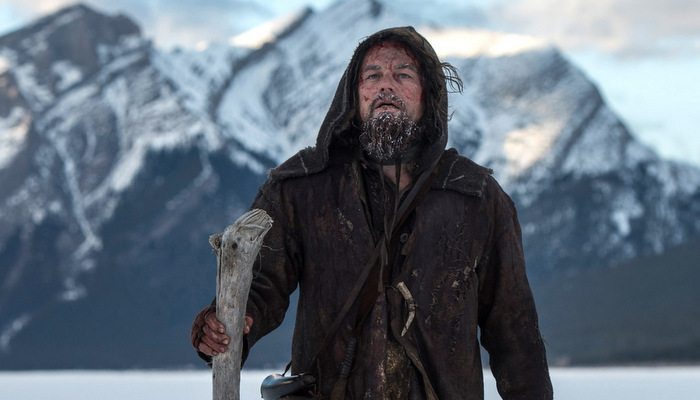 Were Werner Herzog fresh to making films in our modern digital epoch, spiritual tone poem The Revenant would be a natural selection for the New German Cinema director. This isn't the first time I've lodged the (complimentary) comparison at Alejandro González Iñárritu's blistering survival odyssey nor will it be the last. The picture, starring Leonardo DiCaprio, Tom Hardy, Domhnall Gleeson and Will Poulter, seems simple upon surface-level analysis – a fur party's guide must overcome immeasurable odds when left ravaged by beast and man alike – but those willing to look a little closer at Hugh Glass' traverse 'cross a frozen tundra will uncover a Homerian ascend from the bowels of the underworld. DiCaprio has rarely been better, and yet, Hardy is the man of the hour as a fiercely pragmatic Texan survivalist with a businesslike approach to life and death. Iñárritu showcases incalculable skill and unwavering commitment both, proving he's anything but a flash in the pan, while compatriot cinematographer Emmanuel Lubezki turns the fleeting, frozen hours of dewy sunlight into a wholly visceral apocalyptic dreamscape. It's only natural that a film that made me feel so blisteringly cold and hungry could only be topped by…
1. MAD MAX: FURY ROAD
….a film that left me altogether parched and thoroughly sun-scortched. Mad Max: Fury Road was 2015's most unquenchable film experience. This cinematic keg-stand was made to be gulped and guzzled and George Miller offers up his witches brew of wasteland mayhem like Immortan Joe administering water upon the gnarly, rotten hoi polloi below. The result was as didactic a blockbuster as they come. That a 70-year old director (last spotted making movies about chatty pigs and tap-dancing penguins) and his 18-years-in-the-making developmental hell ride was able to bitchslap Hollywood's collective noggins to a state of fire and blood; that he nonchalantly subverted gender normativity with warrior-bitch Furiosa (Charlize Theron); that he afforded the oft misused Nicholas Hoult the supporting character of a lifetime as cancer-slave Nux and had him deliver 2015's best dialogue to shout at strangers ("I live. I die. I LIVE AGAIN!", "Oh what a day; what a lovely day!", "Witness me!"); that a new production aspect pops off the screen each viewing (i.e. Rictus' baby-doll necklace); each attests to the simple truth that George Miller was in a class of his own this year and that all the accolades in the world weren't enough to celebrate the historic glory of Fury Road. It truly shall ride eternal, shiny and chrome.
Follow Silver Screen Riot on Facebook 
Follow Silver Screen Riot on Twitter
(Visited 480 times, 1 visits today)