Mix one part holiday sentiment, two parts 21st century bromance and a healthy teaspoon of bath salts and you'll have cooked up Jonathan Levine's latest comedic vision quest. The Night Before is packaged as a drug-fueled Christmas romp starring such likable actors as Seth Rogen, Anthony Mackie and Joseph Gordon-Levitt and works from a script from Levine and frequent Rogen collaborator Evan Goldberg. When the formulaic cocktail of easy chemistry and easier laughs is working, The Night Before is funny bone-shaking good, a zesty melange of manic humor, gross out gags and breezy charisma. At one too many of its Santa's sleigh stops though, the bromance is invaded by bromides, making for an uneven and inconsistent holiday farce with uncomfortably obvious pacing problems. But, being a comedy, the essential question really boils down to: is The Night Before funny?
The Night Before is very much a movie of tradition. Just as Ethan (Gordon-Levitt), Isaac (Rogen) and Chris (Mackie) have made an annual tradition of spending their Christmas together in a kind of nuevo-nuclear unit, the family tree behind the camera are as tightly woven as Isaac's Star of David sweater. Jonathan Levine worked with both Levitt and Rogen in 2011 on the well-received cancer melodramedy 50/50 while Rogen and Goldberg have been nigh inseparable creative partners since before breaking out with Superbad. Rogen too has accrued a decent number of cable appearances since turning A-list and almost everyone he's collaborated with on the small screen got a phone call for The Night Before. There's a feeling to The Night Before that everyone involved is one big happy family but just look to Sandler and Co. to see how the dynamic has proved disastrous in the past.
So it'll come as no surprise that with a crew this ostensibly tight, The Night Before thrives when it's free-ballin' it. Rogen, co-starring with a small horde of various schedule A drugs (a consolation gift from supportive wife Betsy, played by Jillian Bell), is like a kid in a candy shop. If said kid were a manchild and the candy shop was a Amsterdam mushroom emporium. (Side note: has Rogen become the dictionary definition of manchild at this point? If so, is that why most of his movies have him grappling with fatherhood? I digress.) Aside from a truly on fleek Michael Shannon, Rogen is the best part of the movie because he acts with such childish ferocity and commits to the level-11 absurdity with total abandon.
Joseph Gordon-Levitt on the other hand seems zapped in from another movie entirely. There's such a vast tonal disconnect between Rogen's mad-eyed, frenzied Isaac and Levitt's collected, stodgy Ethan that jumping between the two proves cognitively punishing. For all intents and purposes, Rogen is the creation of a Goldberg/Rogen movie – he's over-the-top in every way, disintegrating into a continuum of poorer and poorer choices and even confronted with visions of otherworldly hallucinations (most of which are anthropomorphized mythological figures achieved with questionably budgeted CG)  – while Levitt fits more in line with the creeping sentimentality of both Levine and Levitt's filmography. He's pouty and almost unfunny; a largely charmless, wholly moodier version of his Tom from (500) Days of Summer. The dichotomy between Isaac and Ethan is representative of the movie's general inconsistent tone. Mackie rides right down the middle of the two and proves the foil that allows them to share the screen without any heads (mine included) popping off.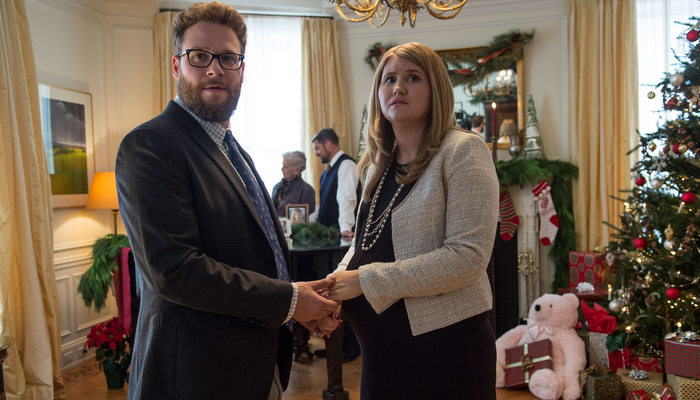 As Goldberg/Rogen movies of lore have increasingly tended to do, The Night Before features a colorful swatch of celebrity cameos, many of which are transplanted from Comedy Central's righteously fresh programming lineup, with my personal favs Nathan Fielder and Ilana Glazer making their big screen debuts. As a respective Red Bull-sponsored limo driver and a Christmas-hating hipster, Fielder and Glazer barely alter their fine-tuned Comedy Central personas, fitting into the bogus magical realism of The Night Before's world like jugglers in a variety show.
Also joining the periphery of the cast is Mindy Kaling, Jason Mantzoukas, Tracy Morgan, Randall Park, James Franco, Miley Cyrus and Lizzy Kaplan in a more substantial though still largely blah role. With so much going on and so many characters popping in and out of the frame, The Night Before is one of the most poorly edited movies of the year. It's constantly in a rush to get to the party but seems to trip over its shoelaces every third block. That the laughs come in three-round bursts instead of a steady streams made me waffle between wanting to grant it a soft pass and hand out coal. Consider me double checking my list.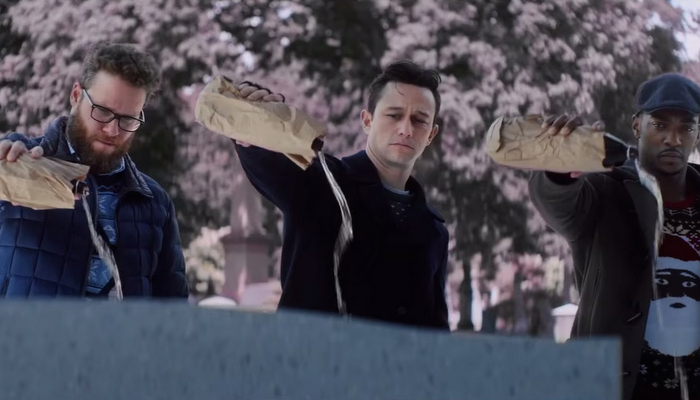 Charles Dickens himself might as well make an appearance as his most iconic yuletide creation – the visions of Christmas past, present and future – become an integral part of the story. It's a strange fit – Levine and Co. have clearly crafted the themes of the film to loosely fit Dicken's cautionary tale of redemption – but it allows for Michael Shannon to really get to work and he knocks it out of the park every second he graces the screen. He truly is the movie's guardian angel. So in response to the initial question posed: yes, The Night Before is funny.
CONCLUSION: An ungainly blend of Seth Rogen/Evan Goldberg's manchild maturation comedies and Levitt/Levine's maudlin, introspective dramedies, 'The Night Before' is tonally inconsistent. Still, it's packed with laughs and includes more than enough funny moments to justify a watch with friends. Also, Michael Shannon.
C+
Follow Silver Screen Riot on Facebook
Follow Silver Screen Riot on Twitter
(Visited 170 times, 1 visits today)