Outside of the inclusion of a deadbeat protagonist, there's not much to distinguish Stronger as a David Gordon Green effort. The director behind such mumblecore indie fare as Prince Avalanche and Joe (the former of which I detested, the later proved a borderline-excellent showcase for Nic Cage)  and comedy zingers the likes of Pineapple Express and the Kenny Powers-led Eastbound and Down (I'm a big enough fan of both) has decided to lens the Boston Marathon Bombing through the eyes of one of its victims and the result, though finely acted, is a mixed bag of emotional highs and lows at best and opportunistic at worst. Surely it's not the shmuck bait of Charlie Sheen's 9/11 but there is very little to justify its existence beyond Hollywood capitalizing on tragedy and you feel that in almost every second of Stronger. 
Jeff Bauman, played with lingering ferocity by Jake Gyllenhaal, became flesh and blood iconography for resilience when he had both his legs blown off during the 2013 terrorist strike. But as his family and community attempt to turn him into a symbolic hero, Bauman abjectly rejects such labels. Outside of public thumbs-ups, he retreats into the man he always was; a hard drinking low life, shucking off responsibility and being an all-around dick to his girlfriend Erin (Tatiana Maslany).
Where there is potential to tell an hero's journey that is, to its very core,  antipathetic to the traditional hero's journey, the angle Green adopts just doesn't work very well. Outside of being a showcase for Gyllenhaal, Stronger just feels rote. It's the rehabilitation portion of a sports drama drawn out to fill 120 minutes of screen time. There's a few light laughs, a dingy romance that really just makes you pity the girlfriend and a whole lot of Bauman lying around not being able to use his legs.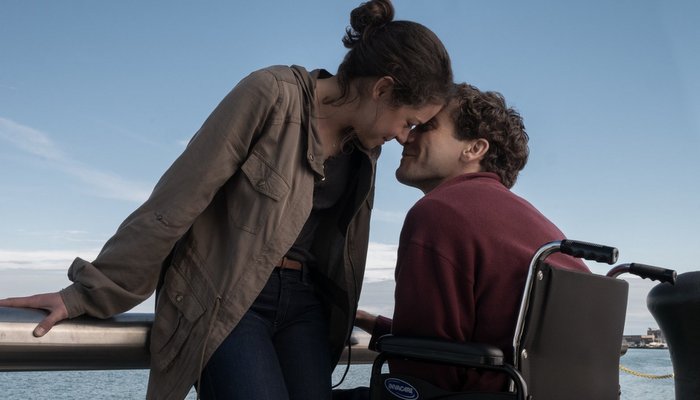 Bauman remains a frustrating character and even through his understandable grief, I felt like I was constantly on the outside looking in, not emotionally involved in his tribulations, rolling my eyes whenever he reverted to childish ways or was steamrolled by his overbearing and pretty indefensibly white trash mother Patty (Miranda Richardson). He's an everyman that's characterized by his weaknesses and though Bauman's real life journey may prove inspiring in the long run, his depiction on screen is just not really worth the time for anyone craving more than a milquetoast weepy.
Stronger is about people rising to the occasion, of assuming an unwanted mantle, and yet it constantly fails to rise itself. Gyllenhaal proves his acting chops haven't dulled but, outside of a few Very Intense Crying Scenes, doesn't really show off anything new nor particularly note-worthy. This is the kind of movie performance critics will flock to call a "tour de force" but it's not nearly as remarkably as much of Gyllenhaal's oeuvre. As much as Stronger is a performance showcase, the performances themselves remain able, if almost entirely unmemorable. From where I'm sitting, it's hard to commend Stronger because it still feels too fresh to go back and examine with clear eyes, the character's journeys, not quite finished. When all is said and done, Stronger feels like little more than a film version of "Boston Strong" memorabilia, in all its exploitative glory.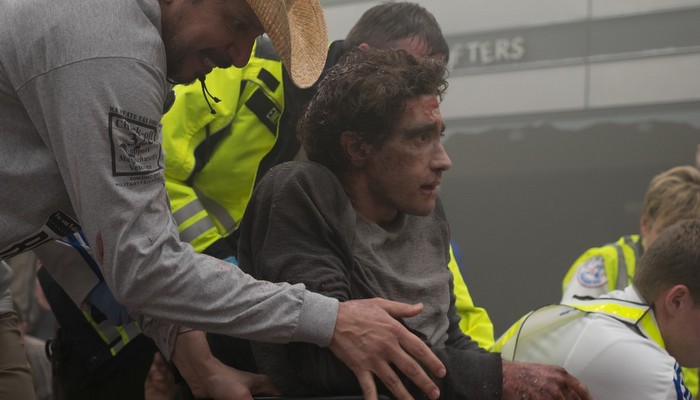 There are affecting moments scattered throughout Stronger, and I can't deny that it tugs hard on the heartstrings and proves effective in loosing a tear or two, most notably a sequence after the bombing that's all kinds of cringy or when Gyllenhaal is drunkenly wailing to the world, but for the most part this is a biopic that just shambles around, failing to give definition to its existence. And much like its protagonist for the vast majority of the film, Stronger never exhibits the will to rise up and claim greatness.
CONCLUSION: A serviceable biopic with a strongish lead performance by Jake Gyllenhaal, 'Stronger' fails to overcome the drawn-out emotional and physical rehab elements that define the picture, resulting in a tedious and unnecessary (and dare I say exploitative?) framing of the 2013 Boston Matharon Bombing.
C
Follow Silver Screen Riot on Facebook 
Follow Silver Screen Riot on Twitter
(Visited 119 times, 1 visits today)