J.K. Simmons has been gracing the screen, both big and small, for twenties years but his career is more in the long category than the illustrious kind. Simmons has quietly paid his dues, slipping in a commendable character actor's career, and was undeniably long overdue for a role of this magnitude. After witnessing his knockout performance in Whiplash, I've join the ranks now wondering why he wasn't cast in roles like this a long time ago.
Playing a megalomaniacal jazz band director at the prestigious, but fictitious, Shaffer School of Music, Simmons embodies Fletcher, throbbing muscles, zigzagging head veins, tight black tees and all. Anyone who's performed in similarly high pressure ensembles (musical or otherwise) knows some shade of Fletcher – the unforgiving maestro so solitarily focused on perfection that chewing up teary-eyed students is a side dish served daily.
Even though this education model sees moral degradation, brute intimidation, and fear tactics regularly employed – like from a twister chapter of the dictator's arsenal of teaching tricks – there might be something to the idea that telling someone they did ok is the worst thing you could ever do to them. In order to really achieve success, one needs to always see their failures first and foremost. Success, in such, doesn't really ever exist. Only failure. Miles Teller's Andrew Neiman doesn't quite see it that way though.
Driven to the point where he regularly plays past the digits gushing blood point, Andrew doesn't want to just become a name in jazz drumming. He wants to be the name in jazz drumming. Idolizing the likes of Buddy Rich, he'll stop short of nothing to sate his blinding egotism. That is, until he meets Fletcher.
Quickly settling into an abusive master-apprentice relationship, Fletcher fails to cut his most promising protégée a break, riding him even harder than the rest of the terrified mob of musicians. And though Fletcher's inimitable success might prove he's onto something with his archaic ideology of progress as punishment – especially when it's focused on accepting accountability and taking your destiny in your own hands and not spouting off Army-level "faggot" slander – he's definitely crossing a line that we are not comfortable with.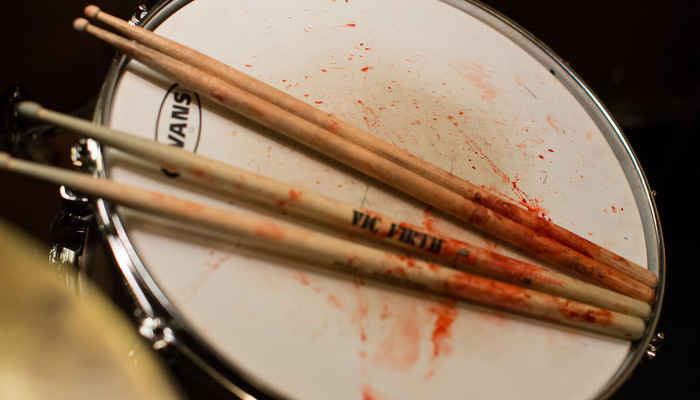 This begs the question: does a master really need to be domineering to cull the best work from his apprentice? Further, does this threaten to erect an almost slave-like dominance of the underling? Even if the answer may ultimately be yes, is it worth it? In presenting these oft distressing questions, director/screenwriter Damien Chazelle waxes philosophical truths with deep-seated confidence.
Through Chazelle's assured hand and Blacklist-topping script, Whiplash is fantastically dynamic – a perfect ode to that musical constant acting a central catalyst to the film's narrative. While students get smacked for being the slightest bit off tempo, Whiplash is unmistakably paced to precision –  the loving design of a satisfied perfectionist. A few minor hiccups may keep it from narrative purity – Andrew's romantic pursuit signals an important arc for him but doesn't fulfill in itself – but that doesn't take away from its many sterling dramatic virtues. It's not quite Buddy Rich but it's still Dave Weckl.
As the film moves into its final stretch, it offers a chance for Teller to showcase his immaculately-trained percussion prowess and dramatic chops and for Chazelle to exhibit his craft for scene creation. In one scene, he can radiate a spectrum of feelings – shame, pride, confidence, and defeat – and does so almost effortlessly. The audacity of 'finale as drum solo' may be thematically matched to Andrew's rebel with a cause attitude but it's also unspeakable cool. Forget jazz, this is a rock concert blown out by an eardrum-splitting, drumset-murdering solo. Our ears ring proudly.
Unconventional and bold, Whiplash might just be the biggest surprise out of 2014's Sundance Festival. Between the outstanding performances from Teller and Simmons, a winning script, and an inbred set of emotional stakes, Whiplash drums up a jaw dropping finale that'll have the musically indifferent just as cheerfully mystified as lifelong aficionados.
A
Follow Silver Screen Riot on Facebook
Follow Silver Screen Riot on Twitter
(Visited 1,074 times, 1 visits today)