"Thor: The Dark World"
Directed by Alan Taylor
Starring Chris Hemsworth, Tom Hiddleston, Natalie Portland, Stellan Skarsgård, Anthony Hopkins, Christopher Eccleston, Jaimie Alexander, Zachary Levi, Ray Stevenson, Tadanobu Asano, Idris Elba, Kat Dennings, Chris O'Dowd
Action, Adventure, Fantasy
112 Mins
PG-13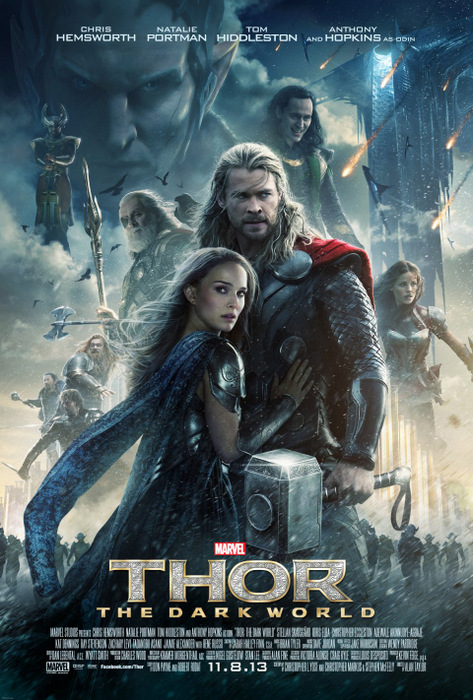 Between Chris Hemsworth's washboard abs and the razzle-dazzle signature FX of Marvel's brand, Thor: The Dark World uses blinding awesomeness to cast shade on its portended plotting. First and foremost a Marvel movie, this second (or third if you're counting The Avengers) outing for the God of Thunder rounds all of the superhero studio's likely bases, but a gilded touch from Game of Thrones director Alan Taylor helps bring an epic scope to the proceedings. Far exceeding the first film in terms of visual panache and high stakes action beats, the crowning gem of the Thor camp continues to be Tom Hiddleston's Loki. Deviant, seething, and locked away for treason, Loki may not be as much of a focal point as he was as the big baddie in The Avengers but he persists in being the most complex and unpredictable character in Marvel's stable.
This time around, Thor lacks the megalomaniacal egoism of the first installment. His (massively sized) head is distracted by the clout of his lost love, Jane Foster (Natalie Portman), waiting for him back on Earth two years after Thor's first departure. But a new evil stirs in the Dark Elves, a race that predates all living beings – warriors born of darkness (whatever that means) and intent on bringing all nine realms back under their control, demanding Thor and his hammer's attention.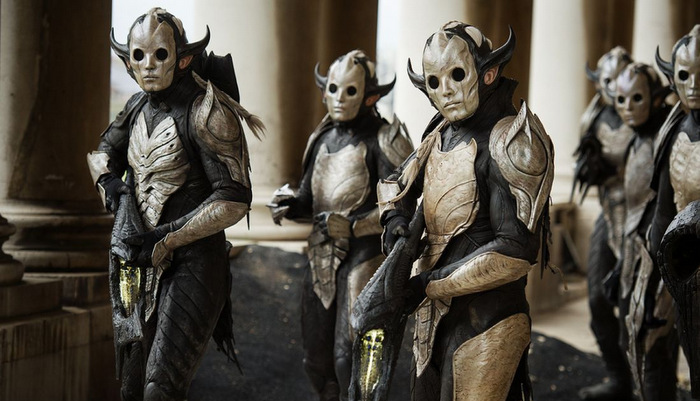 Lead by Malekith (a wasted Christopher Eccleston), the Dark Elves are a race defeated thousands of years ago by Thor's grandpappy in a cold open that somewhat successfully tries to harness the cold open of Lord of the Rings. Thought to be extinct (in a royally dickish move, Malekith sacrifices his entire race to make his secret escape), Malekith and his inner circle of bad boy elves come out of hibernation, scowling like pissed off grizzly bears, on the dawn of an intergalactic alignment, seeking the means to their universal dominance – a living relic known only as the Aether. But on that fateful battleground thousands of years ago, the war-worn Asgardians (in a move of really poor planning) hid the Aether away on some secret dark world, unguarded and, for all intents and purposes, forgotten.
Back on Earth, a now nudist Erik Selvig (Stellan Skarsgård) is the only one who has any clue about the impending intergalactic alignment to come and what it may mean for an Earth recently savaged by malevolent aliens, but he gets tossed in the Loony bin for streaking around Stonehenge. Because what better way to convince people that you've got a great theory than to strip off your skivvies and let your bits fly free? In his absence, Foster and the permanently obnoxious Darcy (Kat Dennings) begin to discover rifts in the space continuum, illustrated by floating trucks and invisible wormholes. By an act of supreme chance, Foster ends up transported to where the Asgardians have hidden the Aether away and becomes infected with its power/poison. Cue her face-slapping reunion with Thor and the impetus for the events to come.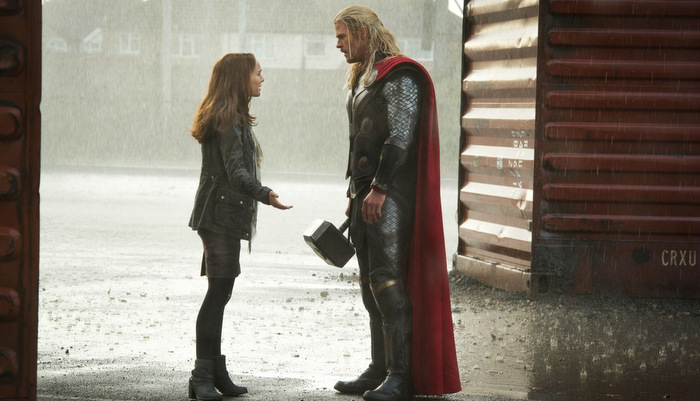 As much as the cookie-cutter nature of these films has become an almost necessary byproduct of the Marvel brand, Thor: The Dark World proves that cleverness is a viable trump card for cliché. Using illusions and false expectation to pull the wool over the audience's eye, The Dark World employs many of Loki's tricks to heighten our sense of not knowing what's going to happen. However old the malignant villain with schemes of world (here universe) domination may be getting, it's the journey to their inevitable defeat that matters most and Taylor seems to know this fact well.
But it's not a Marvel movie without visual flourish swinging from the rafters and Taylor and Marvel's battalion of special effects up the ante from previous endeavors. With more world hopping than any of the former Marvel flicks (standalones and The Avengers included) Thor: The Dark World really opens up the universe to new prospects. The transition from realm to realm provides for welcome scenery changes as well as a nifty cornerstone for the big set pieces – later used to great effect in the perfunctory third act showdown – while also establishing the grounds for Marvel's biggest risk pick yet, The Guardians of the Galaxy (who get the standard tease treatment in the mid-credits sequence).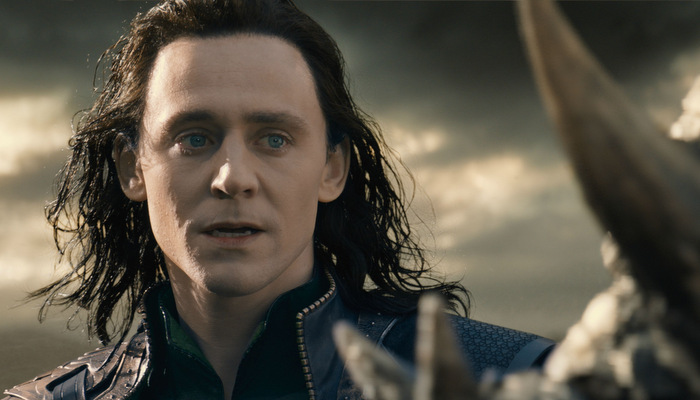 As the Marvel Cinematic Universe opens its doors to a whole new set of possibilities, they have also perfected their balancing act of big action sequences with casually cunning humor – a proven recipe for franchise gold, now tastier than ever. Here, bigger is better as The Dark World benefits greatly from the ever-increasing magnitude of its dazzling set pieces. The once sparkling Asgard of Thor has been cleaned up in its dressing down, offering more grit than polish this time round. Even the flashy rainbow bridge is wowing now, a far cry from the chintzy silliness of the first. A mid-film airborne assault on Asgard showcases Taylor's knack for staging battle and begins a course of acceleration that doesn't let up until the final credits roll (only to be interrupted not once, but twice by post credit scenes).
Many amongst the critical community have cried foul play of late, knocking Marvel for a lack of originality and constant adherence to formula, but they seem to forget that the reason Marvel continues with this low-risk, high-reward rubric is because they are so consistently satisfying. Thor: The Dark World may be exactly what you expect and offer little artistry but Hollywood was founded on escapism and it's this escapism that Taylor has harnessed so well here. Sure going to the theater to experience heartbreak, tragedy, or profound self-exploration may be more "important" – perhaps even essential to our own personal growth – but we experience enough heartbreak in our own lives, not to mention the daily news cycle, to constantly crave more. Sometimes it's enough to sit back and watch a superhero smash bad guys and save the day because there's nowhere else in life where we can sit back and know full well good will prevail.
B

Follow Silver Screen Riot on Facebook
Follow Silver Screen Riot on Twitter
(Visited 867 times, 1 visits today)