Once upon a time, Pixar was infallible. Of their first 11 films, only one (Cars) was a dud (or at least a letdown) and even then it was one of the studio's most bankable flicks. Now, take a peek at Pixar's business model going forward. The animation studio, now infamously paired up with Disney, have pledged to produce an original film every year coupled with a sequel to an existing property that'll see release every other year. This means Cars 3, The Incredibles 2 and Toy Story 4 have already begun development. Respectively finishing off a trilogy that adults have responded to with almost as much non-enthusiasm as toy sales the property has generated. Perhaps the most in-demand and long-awaited Pixar sequel to-be. And another capstone to Pixar's gold standard franchise, which many believe to have already been concluded to near-perfection in 2010.
That sequel pledge has so far been underwhelming. 2011 meant Pixar's first and only certified "Rotten" film in Cars 2 while 2013 saw Monsters University bow to good financial returns and generally positive, but hardly overwhelmingly enthusiastic, reviews. But the bloom was off the rose. Hercules had bleed. That great animation giant who produced one sublime film after another had stumbled, and stumbled again. This year, Finding Dory is the latest to dabble in the Pixar sequel waters and makes a symbolic showing of what we should expect going forward: pleasant distractions that unconditionally qualify as entertaining but ring insubstantial and ultimately unnecessary.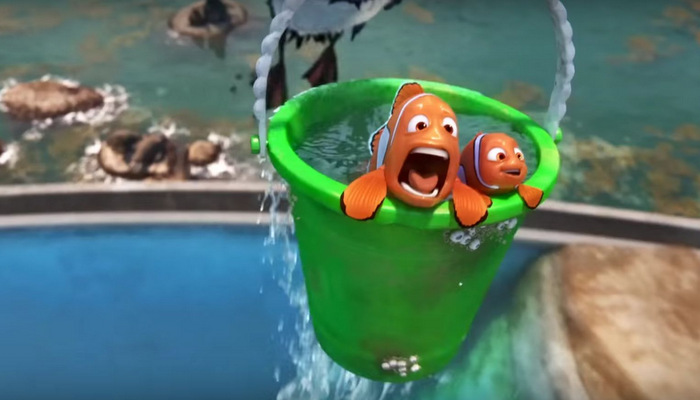 In Finding Dory, the titular forgetful fish remembers the existence of her long-lost family one year after the events of Finding Nemo. Like a tidal wave crashing down upon her, Dory (Ellen DeGeneres) is flooded with maritime memories of parents Charlie (Eugene Levy) and Jenny (Diane Keaton) and bolts across the ocean deep with friends Marlin (Albert Brooks) and Nemo (Hayden Rolence) in tow to order to reunite with them at a marine rehabilitation center where Sigourney Weaver's signature timbre booms aquatic information overhead.
Along the way, the eponymous blue tang's backstory unfolds piecemeal and we gain glimpses into the heartbreaking nature of her amnesic affliction and how it has defined her throughout her life. Dory's short-term memory loss played to comic effect throughout Finding Nemo, often maddening short-tempered nautical compatriot Marlin, but here that comedy comes packaged with tragedy. We learn that it is Dory's dubious retention that pried her from the loving grasp of her parent's fins and that has kept her at gill's length from those around her ever since.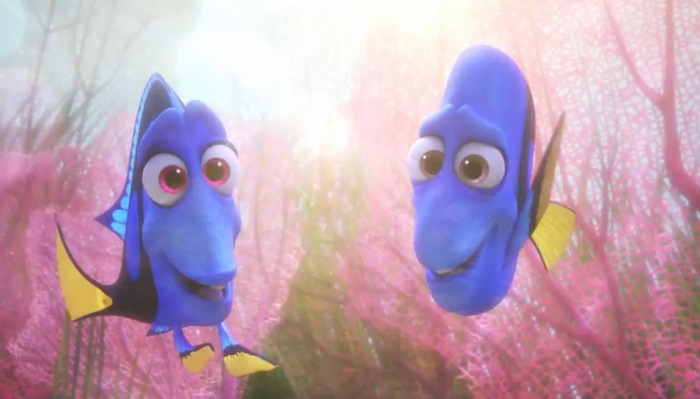 To many, she is a pest; a kindly but nonetheless obnoxious beggar seeking that sweet currency of intel. "Where are my parents?" turns to "Who am I looking for?" turns to "What was I just doing?" turns to "Squirrel!"
The dueling nature of Dory's fly-by-the-seat-of-her-pants attitude, itself a byproduct of her disability, leads to spontaneous problem solving, a policy that Marlin uncomfortably adopts in order to save the day, but that selfsame recklessness is what gets her and her people into a squeeze in the first place. However when push comes to shove, Andrew Stanton (WALL-E, Finding Nemo) and co-director Angus MacLane opt to relieve Dory of her moony plight. She remembers when it matters. This betrayal of character reads inorganic, a betrayal to very real illness her character is meant to face. Sure it's a "kids movie" but they set the table. They established the stakes. I'm only dining here, crabbing bib intact.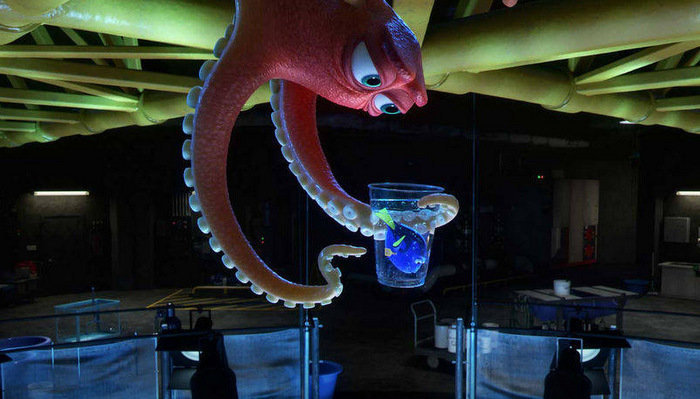 Finding Dory does remain true to the spirit of the original and matches the heartfelt, adventurous tone set by Stanton's first seafaring. Standout sequences are to be enjoyed, including a foray into the disquieting shallows of Poker's Point and a coveted sunbathing rock where Idris Elba and Dominic West's fraternal sea-lions  bark, "Off!" (Get it? "Off"= "Arf") at a rat-faced dweeb seal. Kaitlin Olson's short-sighted Whale Shark Destiny and Ty Burrell's trepidatious Beluga Bailey help keep the sea frothy while Ed O'Neill as an ornery Septopus (an Octopus less one arm) lends a pinch of dramatic weight in addition to manufacturing some of the more impressive visual sequences.
But as impeccably animated as Finding Dory is, as charming as the characters – old and new – are, as frequently amusing and classically "entertaining" it may be, the film en masse adheres to an overtly familiar formula. The central Odyessian narrative thrust, which has our heroes leap from one comically restrictive container to another, feels, in comparison to many of Pixar's offspring, haphazard and largely uncreative. Gone is the world-building. Absent is the soaring emotional crescendos. To replicate is not to originate and Finding Dory airs heavily on the side of the former.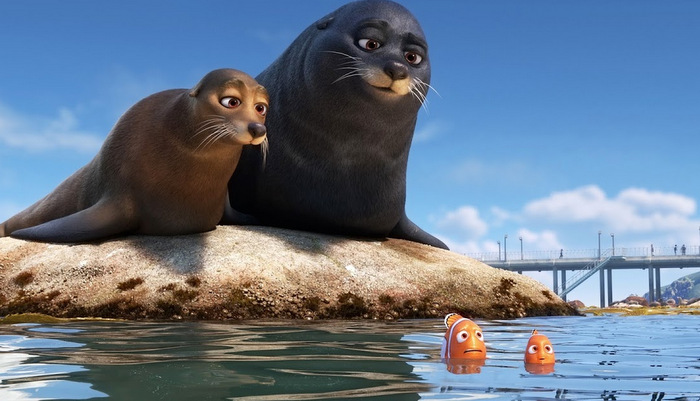 There's theme that resonate – family transcending bloodlines, for instance – but the much talked about LGBT element is entirely absent, a provocative omission that proves how risk adverse the feature ultimately is. When the emotional swells are presented with unironic, on the nose candor, we're left with the acrid flavor of diminished returns lingering on our tongues in the aftermath of an otherwise enjoyable, though not necessarily indispensable, feature.


CONCLUSION: A Neptunian pathos piece showcasing masterfully slick animation and plenty of good humor, 'Finding Dory' still can't escape the grasp of ancillary, auxiliary storytelling. And for all its trying, it cannot summon that signature Pixar tear.
B-
Follow Silver Screen Riot on Facebook
Follow Silver Screen Riot on Twitter
(Visited 238 times, 1 visits today)