Sing Street is that rare film that manages to be good to its core. Like Ward Cleaver teaching Wally and Beaver an important life lesson good. Or finding someone's billfold on the beach and mailing it to them good. Neil Young crooning "Heart of Gold" good. Snuggling a 6-week old puppy good. Pure dictionary definition good.  Omnibenevolence bleeds from the very pores of John Carney's latest singing sensation to create a sharp-tongued crowdpleaser positively dripping with wit and charm that results in an unimpeachably winning film sure to elicit tears and laughs in equal measure. That it's also a whipsmart, droll and overwhelmingly heartfelt coming-of-age film brimming with 80s nostalgia and upbeat tuneage drives it the extra mile.
Prior to Sing Street, I could not count myself amongst the droves of devotees to Carney's signature good-natured sing-a-long pictures. Once felt too insubstantial, a modernized musical that didn't play to my general dislike of the art form, while Begin Again benefited from Keira Knightley and Mark Ruffalo's platonic chemistry but arrived too impacted by its own saccharine tang (…and Adam Levine). Both narratives felt like the means to an end – that end being Carney sharing his music with the world. Sing Street feels fundamentally different in that the movie drives the music rather than the other way around. The result, ladies and gentlemen, may inspire you to stand up and dance in the middle of the theater. That's not so much a suggestion as a warning. Sing Street's good vibes are emphatically contagious. Beware.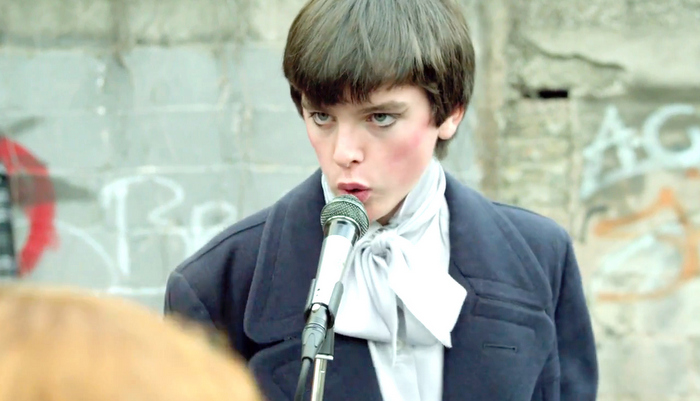 The year is 1985. We're in Dublin. A newscast telling of the great migration from the economically depressed island to the mainland UK informs the sociopolitical backdrop of Carney's picture just as much as the (newly born) MTV station blaring in the foreground. Both Ireland's economic crisis and the birth of the music video are welcome entrance points to the world of Sing Street, the former the root of tectonic marital issues, the later a 20th century hearth for the family to (often begrudgingly) gather round.
We're introduced to Conor (newcomer Ferdia Walsh-Peelo), squirreled up in his room, hacking at the guitar, putting the curses his folks sling at one another to song. C/D/G "We're broke." C/D/G "You cheating bitch!" He's borderline incompetent on the ol' six string and his squeaky, pitch imperfect voice leaves much to be desired but it's nothing that a little image manicuring and determination cannot overcome but more on that later. When his Ma and Da (Maria Doyle Kennedy and Aidan Gillen) reveal they just don't have the cheddar to keep Conor at his comfy Jesuit academy, he's relocated to a grubby Catholic boy's school where he encounters an authoritative priest (Don Wycherley) and a cycle-of-violence-incarnate bully in the lunkheaded Barry (Ian Kenny). Conor discovers his uprooting isn't all bad when he happens upon Raphina (Lucy Boynton), a mysterious young beauty moonlighting as a model.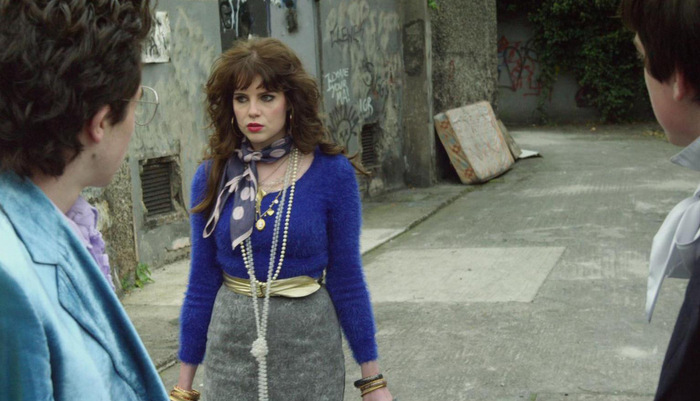 With a stomach full of butterflies and eyes gone coco for her cocoa puffs, Connor schemes to start a band to win the affections of the cryptic temptress one year his senior, plotting to include her in his very own DIY music videos. He assembles the rabbit-mad Eamon (Mark McKenna), the son of a cover band guru comfortable on any and every musical instrument, as a song-writing partner in addition to a handful of like-minded young droogs who themselves make for winning tertiary material. As Connor attempts to find his sound, under-achieiving older brother Brendan (Jack Reynor) puts him through a militant routine of studying the greats on vinyl while offering advice to help uproot Raphina's older on-again-off-again Genesis-blasting boyfriend. As Brendan puts it, "No woman can love a man who listens to Phil Collins."
Music from a-Ha, Duran Duran, The Jam, Hall and Oates and The Cure populate the soundtrack, tone and costumery of the film. The restless evolution of the band involves stylistic growing pains injected in their oft-changing image. Conor (lovingly re-dubbed Cosmo by muse Raphina), Eamon and crew charge through various impressionistic stages (read impersonations) with Raphina quick to slop on their makeup.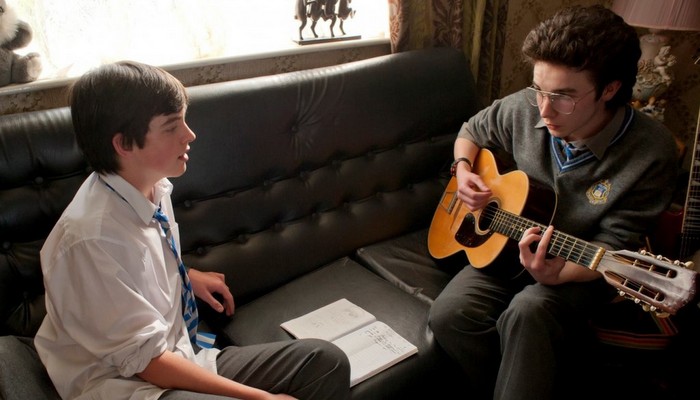 Carney knows how to assemble a keen soundtrack and his original works here prove cathartic and narrative-driving, in addition to being positively humming. Sing Street's (Conor's eponymous band) first song "The Riddle of the Model" is a thinly veiled love letter to Raphina and makes for an uproarious MTV-style video shoot but as Conor grows as a songwriter and character so too do his outputs become more infectious. This development culminates in "Drive It like You Stole It", the film's poppy penicillin shot for the cynically predisposed, that's billed against a dream sequence that bursts with style.
But Sing Street isn't all easy listening. Carney tackles some weighty familial issues with tactful gravitas, showing that though his feature lacks narrative novelty, it can still find ingenuity in its tasteful management of (what Raphia deems) happy-sad. The film lives and dies by its relationships and not all broach easy shoals. No matter the count of musical numbers, not every fairytale has a happy ending. That being said, few filmic affairs of late can content with the naive infatutation that blooms in Conor and Raphina's courtship.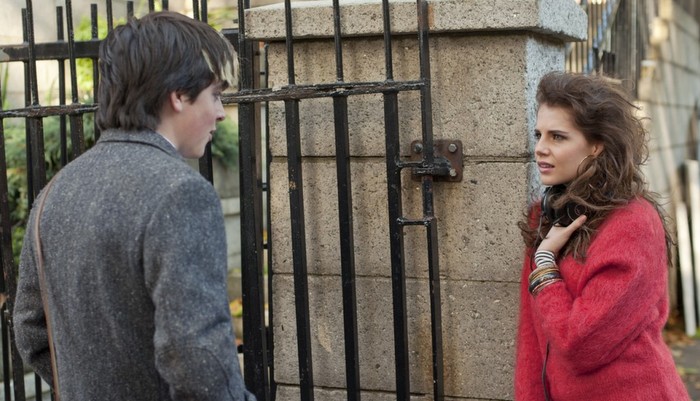 Chalk it up to wish fulfillment but there's something that's both universal and intimate to their unlikely wooing that struck a major chord (perhaps a G) with the me who was once an aspiring musician saddled with an acoustic guitar.  Boynton's Raphina seems beamed in from the set of a John Hughes film, splashy perm, flashy garments, bubblegum makeup and all, and she makes for a massively arresting romantic wedge to Conor's budding musical dexterity. But when all is said and done, his relationship with brother Brendan is just as sweetly satisfying and moving.
CONCLUSION: Big-hearted, shamelessly cheerful and joyous beyond measure, 'Sing Street' is an upbeat victory for director John Carney. Brimming with laughs and a surprising amount of tears, 'Sing Street' is rarely seen uplift cinema sure to inspire an embarrassingly wide grin from start to finish, suffused with dreadfully catchy tunes to boot.
A
Follow Silver Screen Riot on Facebook
Follow Silver Screen Riot on Twitter
(Visited 348 times, 1 visits today)