Noah Baumbach again arrives in auspicious fashion, delivering a fast-talking farcical bumblebee of a film whose honey is sweet and sting is bruising. It's as much a diatribe about the fickle nature of youth as it is a pure slapstick comedy, featuring a humdinger of a hipster prophet in the form of a footloose Greta Gerwig. Baumbach's latest is also decidedly his lightest, opting for a kind of 21st century update to the surrealist verisimilitude of "I Love Lucy" or a feminist take on "The Three Stooges" – that is, it's his brand of "But ours goes to 11" absurd. Everything he and his characters touch upon is based in reality – on someone, on something, on somewhere – but is forcefully exaggerated in its screwy presentation. As such, Mistress America has allowed Baumbach and Gerwig to craft modern day archetypes – the awkwardly desirable nerd, the college-bound tabula rasa, the hipster goddess – and mock them to high heavens in pure unapologetically absurdist manner.
Looking back at the early days of Noah Baumbach, you'd have difficulty coupling wry dark dramas like The Squid and the Whale with the bouncy playfulness of a film like Mistress America. And that's because Baumbach is really a changed man. In the light of his muse Greta Gerwig, he's adopted a younger, hipper, more feminist persona – one that casts mockery on the exploits of youngsters while genuinely addressing their palpable toil. Again writing with star Gerwig, Baumbach has constructed what is easily his most exuberantly brash film yet – chartering a collision course with contemporary beatnik culture at neck break speeds and spilling out a messy monument in its wake.
Mistress America circles the risible exploits of nubile NYU freshman Tracy (breakout star Lola Kirke). Arriving at college full of aspirations but unsure of the channels to her academic and social success, she falls in with the lower tier of wannabe student authors, all scrambling to join the elitist, "self-elected" lot of Mobius Lit Society. Struggling with low-grade depression via ennui, Tracy – at the behest of her mother – reaches out to Brooke (Gerwig), her soon-to-be-stepsister. Within no time, Tracy's head over heels for this desperately chic new friend/family member, beginning an odd cycle of shaggy glamor and fantastical aspirations that caps off in a single-location third act that's cunningly madcap.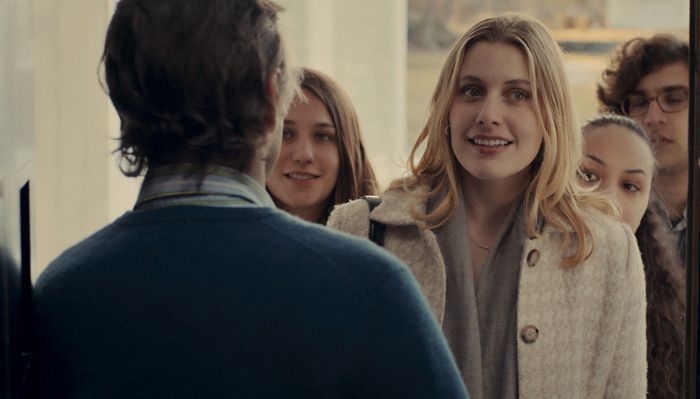 All of Baumbach and Gerwig's witticisms boil down to one central character desire: Brooke's dream of opening a community restaurant simply named "Mom's". It's a place where you'll feel at home; where writers will toil in the corner over carafes of wine; a place that will double as an European-style shoppe in the daytime; where the chefs and waiters will share humble plates of pasta after their shift; a venue where you can go to get your hair styled and cut. Wait what? Brooke's business notions are idealistic and infantile, the result of society egging on an overdeveloped sense of "Yes, We Can!" But if there's one thing Brooke can do, it's talk. And talk and talk and talk. Wheeling herself in circles, those surrounding her are apt to agree with her undeveloped business ideas because of her overdeveloped enthusiasm.
Baumbach and Gerwig's commentary applies not only to the flighty youth at their center but to the capricious investors willing to back such an unlikely success. The fact that Brooke is able to secure a small litany of people willing to involve themselves in such a blatant fiasco is a testament to her charmed people skills but also a representation of business dinosaurs not knowing shit from Shinola.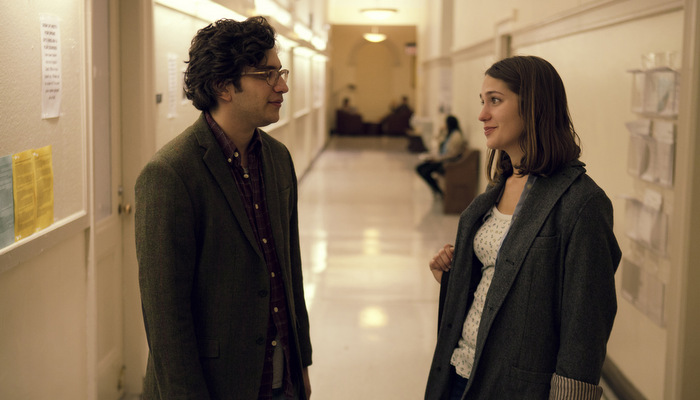 It's literal insanity by way of investment, our filmmakers' way of mocking old business moguls desperate for a social media foot-in-the-door. Our generation's method of marketing and e-commerce may look obtuse from the outside in but it's representative of a system that's been irrevocably altered. That the Old Guard is largely unable to discern brilliant ideas from featherbrained ones only adds to the mess. Only new-age affluence – in the form of Sundance 2015-frequenter Michael Chernus – can discern the hogwash through Brooke's fog of whimsical idealism.
All of Mistress America's silly-serious discourse adds up to a statement on how the youth of today is itself silly-serious – self-distracted, partially arrogant and full of hot air – and is lovingly executed by a talented duo moving forward at blinding speeds. Their sophomore feature admittedly never reaches the dramatic heights of their previous collaboration, Frances Ha, but nor is it attempting to dig in that selfsame plot. Instead, they've crafted something that errs more on the side of the theater; a brash caricature of modernity scarified with bang-up wit. The second resulting love child of Baumbach and Gerwig is unlike most; an uneven, playful, totally daffy farce completely worthy of its lofty asking price.
B

Follow Silver Screen Riot on Facebook
Follow Silver Screen Riot on Twitter
(Visited 178 times, 1 visits today)