The basic plot structure of Indignation couldn't be simpler. The precocious son of a New Jersey kosher butcher heads off to college, goes on a date, changes dorm rooms and gets appendicitis. For a film with such narrative simplicity, the margins are sprawled with a rich tapestry of emotionally vibrant reveals, loaded with unconventional wordplay comedy and brimming with decadent forbidden relationships, all pumping along to a mule kick of a curtain act. As a crossbred of coiffed 1950s romance and genteel protest piece, Indignation is a delicate ballet that culminates in first time writer/director James Schamus doing a tap dance on your fluttering, caved-in chest.
Schamus' capacity for transforming an otherwise civil, soft-spoken drama into a certifiable war hammer to the sternum comes in part from his long-time association with the independent film scene, particularly his association with two-time Oscar winner Ang Lee. Though Indignation marks Schamus' debut as a director, the 56-year old Detroit-native cut his teeth working alongside Lee, serving as a writer/producer on Crouching Tiger, Hidden Dragon, Hulk Sense and Sensibility, Brokeback Mountain and The Ice Storm. Along the way, Schamus has picked up some of Lee's finest sensibilities, particularly the Taiwanese director's sharp eye for compelling melodrama and tactful, period-precise recreation.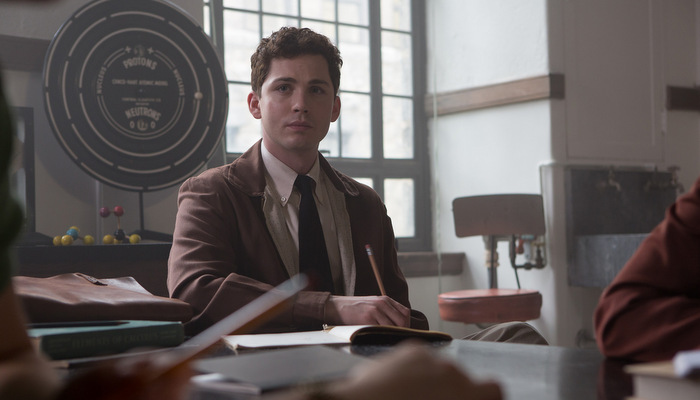 Indignation plants us in the fringes of the Korean War, a oft-skated over chapter of American history – not as epically disastrous as the to-come efforts in Vietnam nor as universally humanitarian as those of the Great War – but nonetheless a period of great anxiety and heartbreak.
The scene is set when a young America, holed up in a bombed out bunker, awakens to the patter of footsteps, followed by the report of gunfire. He pads down a dingy hallway, pursued by an equally juvenile solider of the antagonist cloth and the two kill one another off screen. Cut to a small town in New Jersey where the neurotic but intelligent Marcus (Logan Lerman) attends the funeral with his kindly, well-intentioned mother (Linda Emond) and nerve-wracked father (Danny Burstein).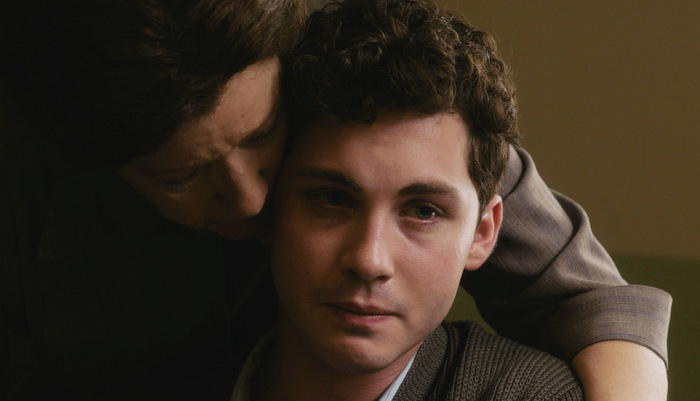 Marcus lives out the final days of his pre-college summer breaking down carcasses at his father's butcher shop, awaiting the intellectual riches in store at Winesburg College, the Ohioan university on his near horizon. Marcus' Judaism has defined vast swathes of his childhood and, with war brewing in the distant East, has in turn turned his father into a mushy wreck. Marcus is so enrapt in the culture that a neighbor's jaw drops when she hears of his forging his path towards the Christian-dominated Midwest. "How will you stay Kosher?" she pleads. His faith, or uncloaked lack thereof, is an eventuality of American author Philip Roth's experience, whose 2008 novel of the same name provides a sturdy foundation for Schamus' adaptation.
Indignation cuts razor close to the hem of Roth's 29th novel, itself a by-product of Roth's own collegiate experience in the early 50s, and Schamus displays a workmanlike confidence in encapsulating the might of Roth's powerful saga, carefully whittling it down to its most precise and heart-aching form. Exploring the pampered norms of the 50s and social pressures to conform to a universally accepted credo populates both the cultural aura of the fictionalized Winesburg college and the broader American ethos at large. Winesburg becomes an extension of the United State's design for unquestioned nationalism and Marcus its accidental beatnik rebel.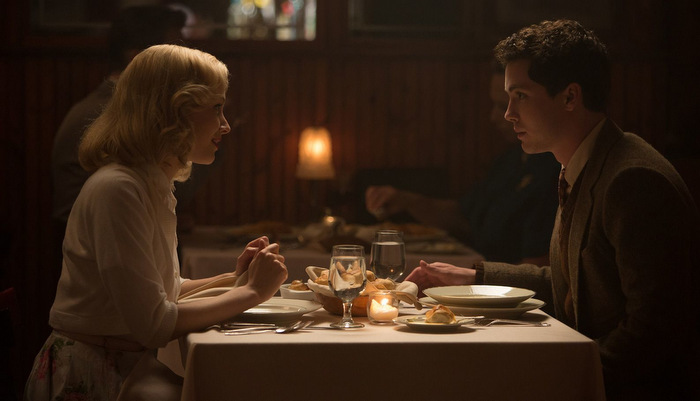 While at Winesburg, Marcus unearths a fascination with fellow classmate Olivia Hutton (a never better Sarah Gadon), a strong-willed social pariah with scar tissue dancing up her wrist from a past suicide attempt. The romance that blooms between them is at once utterly awkward and shockingly sincere. It becomes the battleground for Marcus' spiritual awakening; the catalyst that he speaks of when defining how each and every decision we make sinks us one step deeper into the grave. The chemistry that erupts between Gadon and Lerman is set ablaze by a Shakespearean forbidden nature and tempered by Marcus's upbringing-imbued inability to account for Olivia's periodic (and mostly socially unacceptable) promiscuity (she administers a hasty beej upon their first date.)
Both Gadon and Lerman shine in the roles, the later proffering the final nail in the coffin in what has been a long, arduous march towards thespian relevancy. Lerman has erupted on celluloid before, most notably in Stephen Chbosky's fantastic adaptation of his own novel The Perks of Being a Wallflower, but that inimitable sparkle in his eye has rarely been brushed with such sensitive maturity. On the flip side, Gadon creates a character bristling with complexity, a two-faced goddess, misunderstood and crash-landed in the wrong time period. You get the sense that she would have thrived in the roaring 20s or the swinging 60s but trapped in the overly tidy, misgiving mid-century, she is a lamb to slaughter. Though this is very much Marcus' journey, Olivia Hutton is the indispensable heart and Gadon leaves an indelible mark making her such.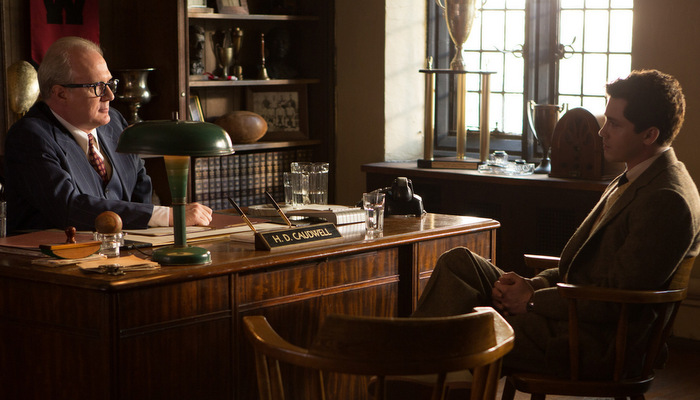 At about the halfway point, Indignation interrupts itself for some utterly uproarious verbal sparring between Marcus and the well-to-do Dean Caudwell (Tracy Letts). Each represents a kind of pillar of American intellectualism; Caudwell the conservative Christian elite, Marcus the wily secular everyman. While Caudwell draws inspiration from Biblical passages, Marcus quotes Bertrand Russell's inflammatory essay "Why I Am Not a Christian". Their tête-à-tête is a window into Schamus' uncommon comical sensibilities, one which favors diction to dick jokes that makes for a whirlwind of verbiage that wouldn't feel displaced in a Coen Bros film.
CONCLUSION: Delicate and hard-hitting, James Schamus' Indignation is a dramatic and philosophical examination of Korean War-era American values bolstered by wordy comic zest, romantic aches and a challenging moral imperative. Logan Lerman has never been better.
A-
*Film seen at the 2016 Seattle International Film Festival
Follow Silver Screen Riot on Facebook
Follow Silver Screen Riot on Twitter 
(Visited 141 times, 1 visits today)