I was reluctant to watch Pride. I'm not a huge activist when it comes to anything besides the "No-Poo Movement", so I'm generally less inclined to endure pandering of any kind. When I read the synopsis for Pride, it seemed a little politically heavy. Perhaps it would be Dallas Buyers Club with parades. Thankfully, it was so much more than that.
Pride starts, expectedly, at a gay-pride parade in the Summer of 1984. On his birthday, Joe (George MacKay) sneaks out of his parents' house to join in the festivities. Soon, he meets Mark (Ben Schnetzner) and his group of friends. Mark's an energetic, delicate young activist for everyone's rights. He's got a massive "Thatcher Out!" banner hanging outside his apartment window. Joe gets handed a bucket and joins in on the chanting: "Lesbians and Gays for the Miners!"
The film focuses on the British Coal Miners' strikes in the United KingdomB during Margaret Thatcher's Prime Ministry. Mark hears about their plight and sees an opportunity to gain sympathy for the "gays'" cause. The police that used to torment the homosexual community have shifted their attention to the miners picketing and rallying. He starts L.G.S.M. — Lesbians and Gays Support the Miners (they've got a very forthright name) — and calls upon his fellow friends to join the cause. Notably: Joe, Jonathan (Dominic West), and Steph (Faye Marsay, the "L" in LGSM).
The problem is: no one will accept their money. Mark, being the driving force that he is, decides to contact a suffering town directly and offer their help. Dai (Paddy Considine, Hot Fuzz & The Bourne Ultimatum) picks up and is more than willing to accept the money. LGSM goes up to Wales to meet him and the town, but this hardy Welsh miners' town isn't as receptive. Soon, a struggle erupts as LGSM refuses to let down in helping them out, while the miners reconcile help from a community that they don't understand.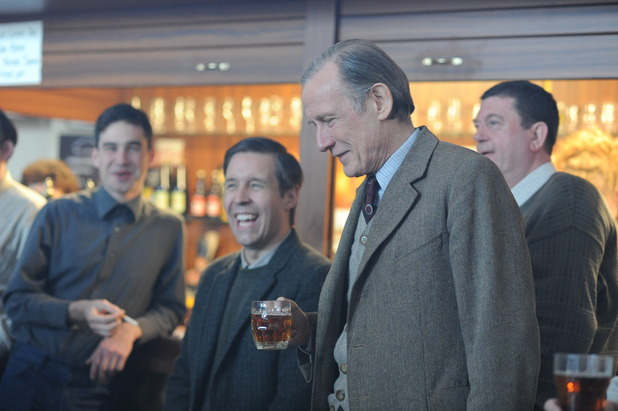 The film is one of protest and persistence. Joe's hiding his homosexuality from his parents. His Dad mockingly calls AIDS "Anally Injected Death Sentence." His internal struggle matches the one facing LGSM: how do we change a prejudiced perspective. As the town warms up to "The Gays as they call them" and older members like Cliff (Bill Nighy) and Hefina (Imelda Staunton) begin to advocate for them, the town faces the same rift as Joe: how are these people different? LGSM picks up more and more support, but the more vocal opponents continue trying to sabotage their efforts.
Pride is beautifully acted, unimposing and wide open. Really, it's raucous fun. LGSM puts on a benefit concert, a parade, and constantly brings fun to the tense topics Pride highlights. The juxtaposition of gruff miners and flamboyant LGSM-ers is hilarious, and Pride has fun making fun of itself. Heavy materials are treated with the same lightness as a pride parade. It's proud without boasting.
Old vets like Considine, Staunton and Nighy deliver soft, tender and often hilarious performances as older town-members quick to accept LGSM. They give what you'd expect from top-bill names. Their interactions are simply gold, as they mine for understanding. These old folks have never met a homosexual in their life, and now they're surrounded by them. Their reactions are brilliant.
But Pride makes its money from its young cast, who dance and sing and enjoy every moment. They never give up and don't take "no" for an answer. Their charisma and enthusiasm melts hearts. Ben Schnetzner is revelatory in one of his first on-screen performances. As LGSM's headstrong leader, he's the Billy to this film's Elliot, the Simon to its Garfunkel. He takes the brunt of the criticism, but bounces back unharmed. He's the group's anchor, and he's definitive in his charm. MacKay, Marsay and West too, are sincere, droll and flamboyant.
Ultimately though, praise belongs to director Matthew Warchus (directing his first film since 1999) and writer Stephen Beresford, who have put together something special here. Weaving in so many tales of strife without coming off as overbearing is something difficult to accomplish, but they do so with aplomb. By the end, the triumph isn't what you'd expect either. Beresford keeps you guessing, and Warchus has you dancing in your seat. This film is based on a true story, but it seemed bigger than that.
Heart-warming, fun and eye-opening, Pride is surprisingly earnest and solid from start to finish. It bypasses prejudice and gifts you with understanding. I'm more than proud to recommend Pride. Be prepared to dance.
A
Follow Silver Screen Riot on Facebook
Follow Silver Screen Riot on Twitter
(Visited 503 times, 1 visits today)