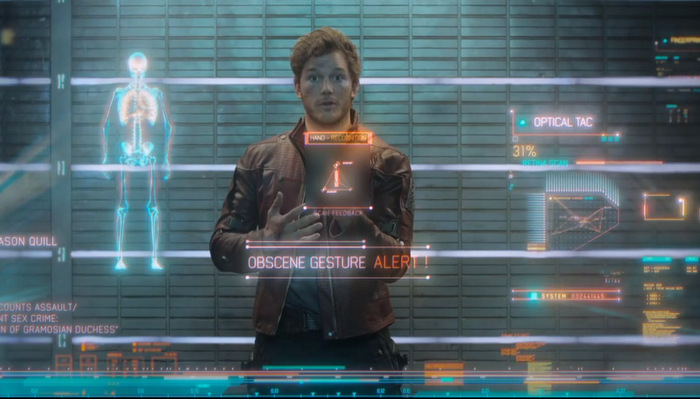 If you ever wanted to see Andy Dwyer, the Hulk's little sister, StarFox (er, StarCoon?), and a teenage Treebeard team up to wage a battle of galactic proportions, then you might want to check out the first trailer for Guardians of the Galaxy that released earlier tonight.
Marvel's latest brand integration venture is based on a comic series written by Dan Abnett and Andy Lanning that first ran in 2008. Guardians of the Galaxy follows a team of five outcasts as they find themselves accidentally caught in a cosmos-bending conflict after stealing a powerful orb from some evil maestro named Ronan the Accuser.
Coming off recent successes in The Lego Movie and Spike Jonze's Her, Chris Pratt plays Peter Quill (the self-titled "Space-Lord"), a drunkard American thief who doesn't seem to take anything seriously. He's joined by Zoe Saldana in green body-paint, Bradley Cooper voicing a space raccoon, WWE fighter Dave Bautista, and Vin Diesel, who plays an extraterrestrial plant monster (colloquially known as a "tree").
If those names weren't enough to catch your interest, then maybe John C. Reilly, Glenn Close, Karen Gillan and Benicio Del Toro acting in supporting roles will. Even Lee Pace joins in as the story's villain, continuing his recent trend of distempered characters.
Judging from the trailer, Guardians of the Galaxy has potential for some good laughs and jackassery. James Gunn directs what looks to be a crass, CGI-filled romp that will at least hold your attention until Avengers: Age of Ultron releases next year.
http://www.youtube.com/watch?v=pTZ2Tp9yXyM
Guardians of The Galaxy is directed by James Gunn and stars Chris Pratt, Zoe Saldana, Bradley Cooper, Dave Bautista, Vin Diesel, John C. Reilly, Glenn Close, Karen Gillan, Benicio Del Toro and Lee Pace. It'll start maings boatloads of money starting August 1, 2014.
Follow Silver Screen Riot on Facebook
Follow Silver Screen Riot on Twitter
(Visited 649 times, 1 visits today)