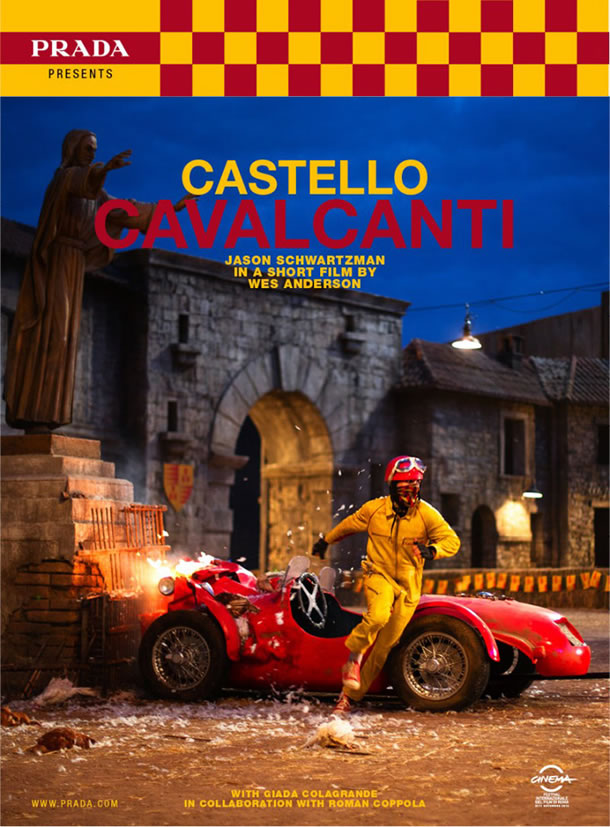 Even though it'll still be a few months before Wes Anderson's The Grand Budapest Hotel debuts, you can still satiate your Anderson cravings with the latest short which sees the exuberant director teaming up with fashion giant Prada titled Castello Cavalcanti. A very rat-faced Jason Schwartzman steps in as a Formula One driver who drives his car into a Jesus statue and ends up in an out-of-body experience in which he wines and dines with his ancestors. Heady and ethereal as that may seem, it's all filmed in the same color-coordinated precision of a Anderson flick, aided here by cinematography from Darius Khondji (Midnight in Paris).
If you missed the trailer for The Grand Budapest Hotel, give it a look here and then check out this latest short that no doubt will be packaged with the film. Whether or not it'll show in front of the film in theaters is uncertain but it will certainly be included in the inevitable Blu Ray package.
The Grand Budapest Hotel is directed by Wes Anderson and stars Bill Murray, Owen Wilson, Willem Dafoe, Tilda Swinton, Edward Norton, Adrien Brody, Ralph Fiennes, Harvey Keitel, Jude Law, Saoirse Ronan, Mathieu Amalric, Lea Seydoux, F. Murray Abraham, Tom Wilkinson, and Tony Revolori. It will hit theaters March 7, 2014.
Follow Silver Screen Riot on Facebook
Follow Silver Screen Riot on Twitter
(Visited 659 times, 1 visits today)