"Life After Beth"
Directed by Jeff Baena
Starring Aubrey Plaza, Dane DeHaan, John C. Reilly, Molly Shannon, Cheryl Hines, Paul Reiser
U.S.A.
91 Mins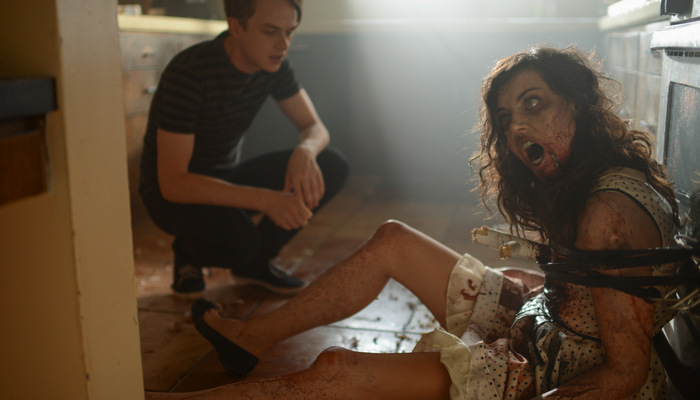 The scales may tip all over the place on this zom-rom-com but even with all its tonal inconsistency, we're dumped in a place of smirky satisfaction and forgiving admiration of intent. Life After Beth is narrowly shoddy, but still an easy crowd-pleaser and an affable experiment in reckless absurdity.
As Tomboy one famously said, Dane DeHaan could sell a ketchup Popsicle to a woman in white gloves, so even though his chemistry will Aubrey Plaza might be hard sold, it's impossible not to believe the earnestness evidently pouring from his drippy soul. Plaza, that beloved goon, is no certifiable dramaturge and rides her quirky shtick hard here but, for what it's worth, seeing her strapped to an oven, face peeling away with rot and sauntering towards brains is worth the price of admission alone.

Beth (Plaza), for whom the movie is cleverly named, met her end at the tip of a raddler's fang solo hiking at night. The film opens on her funeral which sets the stage for a rather dour half hour with DeHaan almost over-committing to the conceit that his star-crossed lover has met her end. His performance oozes grief, demanding the likes of the Beth's parents, John C. Reilly and Molly Shannon, who help keep things frothy as the film boils towards full-blown satire.
Without announcement, Beth reappears as if nothing had happened and overwhelmed with the miracle that is her revival, all are willing to overlook how this Beth isn't quite the same as the one they put in the ground a week prior. Like the changing tides of puberty, Beth begins to undergo a new transformation, budding into a full blown zombie.
Leaps and bounds away from the breed of zombies George Romeo has familiarized us with, these Z's suffer a case of super strength and amnesia but lack the malevolent, herdish brain-gobbling qualities. At least, at first. It's during these introductory "zombie" moments when director Jeff Baena experiments with his own, unique faction of the obnoxiously popular iconography that the movie proudly rears its creative head and is at the top of its game for it. With zombies' unnatural penchant for smooth jazz and love of reassurance-laden chatting, Life After Beth proves fitfully riotous. But when chaos breaks out and everything goes to piece, that flair of individuality and precision of vision falls apart as well.
More of a fun experiment than a certified success, this zillionth installment in the zombie niche has its share of dicey moments but it's also riddled with guffawable zingers and crafty physical comedy. Plaza goes for broke and will surely be remembered for one of the strangest performances this year while DeHaan is rarely off the mark and it's their unlikely chemistry that rounds Life After Beth round the bases, even if it occasionally limps its way across home plate.
C+

Follow Silver Screen Riot on Facebook
Follow Silver Screen Riot on Twitter